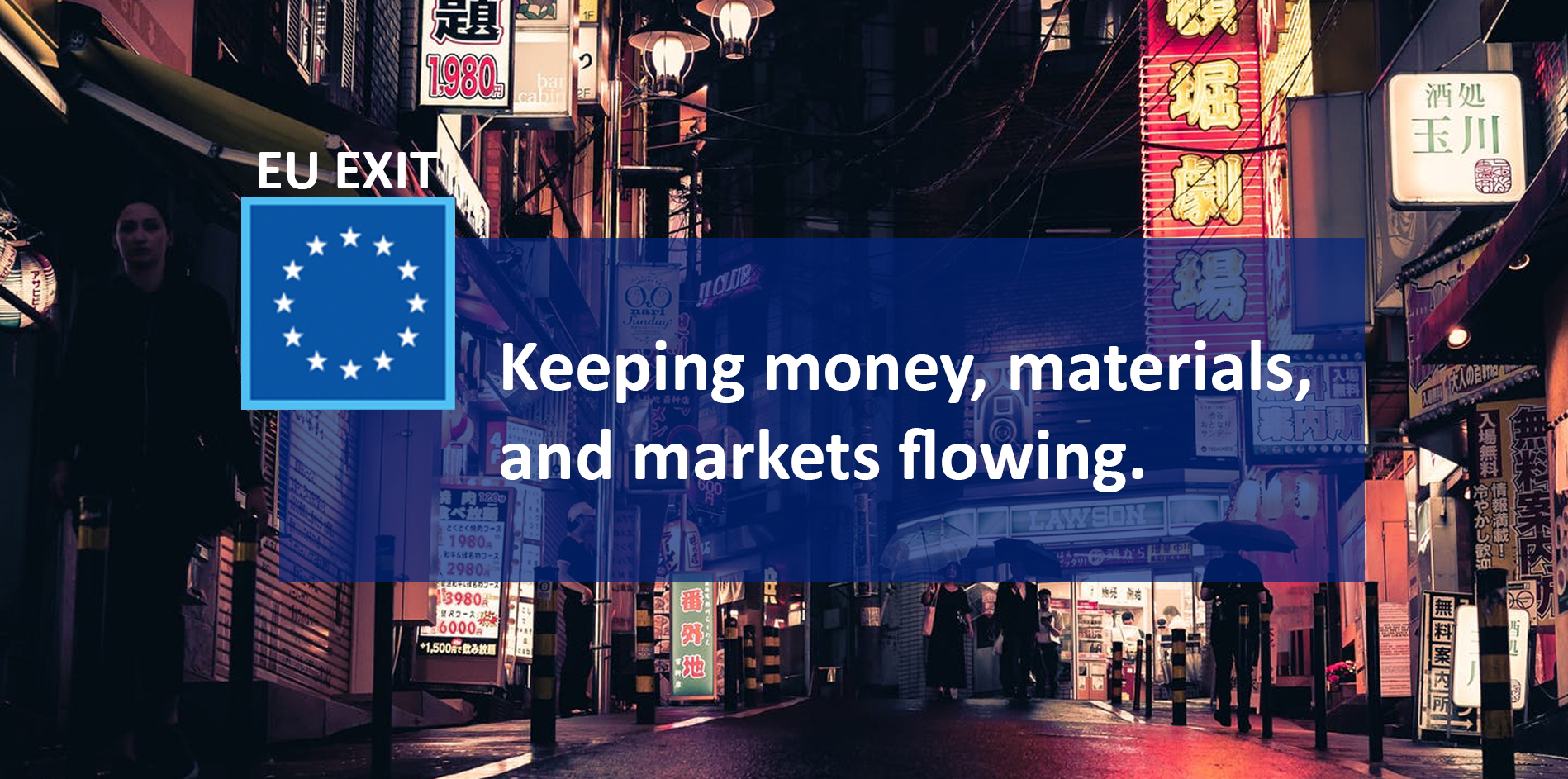 Maintaining the status quo is one of the biggest challenges of any business interruption event. Whether that be exiting the EU, the impact of COVID-19, or even legislative changes like GDPR; the ability to carry on as normal should be seen as the greatest of successes.
To that end, we spoke to our Business Guides for their top tips on business continuity, in three important areas:
Money
If your firm is experiencing a slowdown in sales, and therefore profit, don't hesitate. You have wages and suppliers to pay, and delays now could have knock-on effects further down the transition line. Relationships are going to be key moving forward.
Contact your bank immediately. Many high street banks are already announcing measures to help cash flow for COVID-19, but they are also there to help you through the business interruptions brought on by exiting from the EU. If you have run a forecast and note that you'll be requiring new/increased working capital, pick up the phone.
If you don't already complete financial forecasts, now is the time to start. Seeing what is coming in and going out over the next 12 months will give you the knowledge of potential cash flow issues ahead. Forewarned is forearmed. You can make plans, like offering your debtors discounts for early settlement.
Tighten your belts. See if you can extend your creditors and pull in your debtors. Cash is king, and those who have it will rule. If you have large purchases looming, reassess and evaluate whether it'll bring in more profit and cash before you push the button.
And finally, talk to your accountant. They are an excellent resource of knowledge and advice, and you're already paying them for their time. 
Materials
Seamless supply is the lifeblood of manufacturing businesses. Whilst there are obvious challenges, like protecting operational profitability and working capital requirements, there are also opportunities that have presented themselves.
Take inventory management, for example. SMEs now have the opportunity to capitalise on the recent reduction in base rate, to underwrite the cost of investing in increased stockholding, in order to compensate for extended lead times due to new import/export clearance protocols.
At the other end of the spectrum, carrying out forecasts for demand with major customers, in line with service level agreements, will help to prevent penalty fees for out-of-stock situations online and in-store. To keep both situations fluid, scope ROW supply chain sourcing alternatives, to protect supply chain availability.
When it comes to trade itself, most affected firms will already have their Economic Operator Registration and Identification (EORI) number, which starts with GB. If you have contracts with an EU customer, for which you make the customs import declaration, you'll also need an EU EORI number.
Markets
For many businesses, EU Exit might be the catalyst that forces the hand into global trade. Identifying new customers in new markets in order to spread risk and protect income has always been a reliable strategy, but EU Exit may have bumped it up the chain a little for you.
Globalisation comes with its challenges; international trade laws, conflict and collaboration, cross-border trade groups. None of this is new. The Department for International Trade (DIT) can help immensely when it comes to the practicalities, by helping build and access networks, by exploring foreign markets on foreign soil, by offering insight into the culture of your target country. And, quite simply, DIT can find somebody for you to trade with. You are not alone in this. 
Some companies have used mergers and acquisitions, gaining sales and brand-building with the new company's existing customer base. As a small business, the easiest way to 'go global' is via online e-Commerce, selling on Amazon, eBay or Alibaba. 
But the more customers you can access, the more competitors you're up against. Your marketing team needs to address this question: what makes your organisation unique? Consider the design of your customer experience so that your business can grow globally, not just regionally. Being online in a global platform brings with it the demands of international payment providers, of language and translation services, of shipping and logistics.
If you have any questions on how the EU Exit will affect your Gloucestershire business, or you'd like to speak to an advisor about building resilience for change, please email us: euexit@thegrowthhub.biz