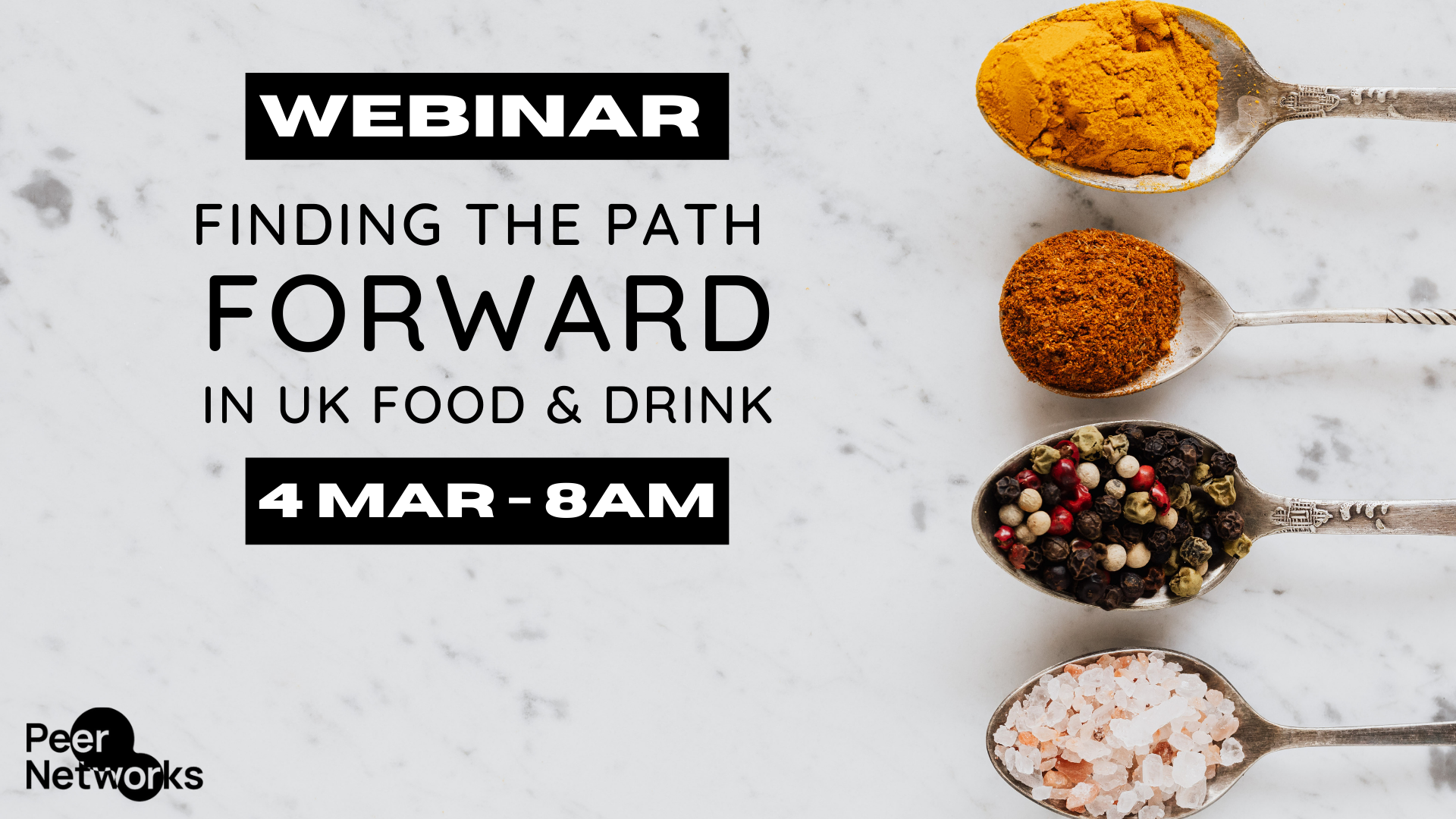 The food and drink industry has been hit hardest by the COVID-19 pandemic.
3 lockdowns, 5 tier systems, curfews, and full-scale closures have made it extremely difficult for the UK's food and drink scene to keep its head above water.

But with almost 25% of the adult population now vaccinated, and a lockdown review coming later this month, there may finally be a light at the end of the tunnel.
Now, businesses in the sector will be looking to weather what will hopefully be their final storm. They need two strategies: one to survive until the easing of restrictions, and one to thrive once they're lifted.
Our Peer Networks programme has taken up the challenge. Gathering six experts on a virtual panel, we're hosting a webinar where some of the greatest minds in the industry will discuss how the sector might find a path to prosperity in a post-COVID world, and how businesses can consolidate until that day. Combining their vast experience, they will discuss and debate the strategies with the most likely chances of success, and answer questions including:
After the pandemic, what is going to be hot, and what is not?
Now that we are out of the European Union, what challenges lie ahead for animal origin certs, import substitutions, currency fluctuations, etc?
Has food and drink embraced digital to the extent that it needs to, given the astronomic rise in online shopping during 2020?
What are the new products and trends that will shape the sector going forward?
Find out the answers on this free webinar.
The panel, below, will also try to make time to take specific questions in an audience Q&A section.
Sean Kelly
Chairing this panel, Sean brings 20+ years of experience in change and growth management, and business improvement. Working across the globe, Sean is an accomplished coach and public speaker, and has helped hundreds of clients turn the fortunes of their business around in challenging times.
Tim Chater
Having worked with Nestlé, Diageo and PepsiCo, Tim has been involved in the industry for 30 years, in 50+ countries. Specialising in commercialising innovation, and passionate about supporting entrepreneurs, TIm is currently working extensively in plant-based foods and tech.
Sharon Morey
Sharon is a food manufacturing and food retail expert, with 30+ years of combined experience in the sector. As a qualified nutritionist, Sharon has worked across new product development, training, marketing, consumer relations, and technical support. Now working at Campden BRI, she manages the legislative advice arm of the business.
John Taylerson
John Taylerson is a serial entrepreneur, with a track record of building food and drink businesses from scratch, and putting products on-shelf within months. Offering his hard-earned knowledge on starting, growing, financing, and selling businesses; John has covered everything from primary agriculture, to factories, to making TV adverts.
Phil Mills
Now Head of Food and Drink for accountants and financial advisers Old Mill, Phil draws upon years of experience working in the trenches of the sector. Committed to supporting the growth of businesses, Phil combines his sector knowledge with his vast business and finance know-how, to bring food and drink businesses to their next level.
Simon Gregory
Simon Gregory brings his extensive experience of the food and drink sector, and particularly in his role as Commercial Manager of Food Works SW: a vibrant new centre of excellence for nurturing local food and drink business, with state of the art facilities, technical support and expert advice to get your business bubbling. Connecting local producers to collaborate, innovate, identify new markets and create jobs within the sector.