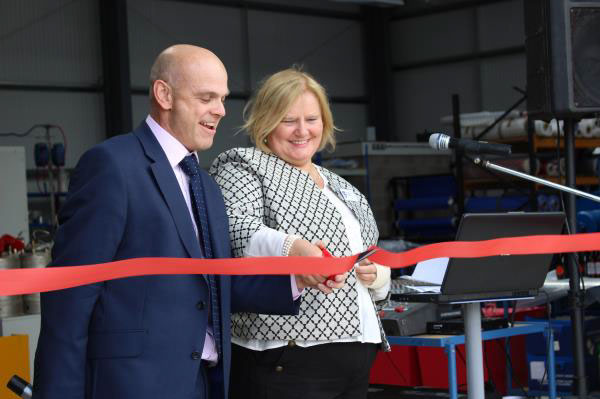 Goodflex Rubber recently unveiled its new factory extension, more than doubling its floor space, thanks to a University of Gloucestershire Regional Growth Fund.
The Honeybourne-based manufacturer specialises in hoses, mouldings and assemblies; supplying to companies including McLaren, Aston Martin, Bentley, Jaguar Land Rover and AMG Mercedes. To support the company's vision of increasing jobs and capacity, Goodflex applied for match-funding from the University of Gloucestershire's SEED Fund. With the investment, the business aims to create an additional 15 full-time jobs and increase revenue by 65%.
The University of Gloucestershire's £2.3m SEED Fund is part of the Regional Growth Fund programme which aims to stimulate long-term economic growth and new, sustainable jobs.
With funding approved, the factory extension was opened by Rachel Eade MBE, Director of the Manufacturing Hub on July 1st 2016. Along with customers, suppliers and key industry figures, Dev Chakraborty from The Growth Hub at the University of Gloucestershire attended and commented;
When Mark came to us last year, he shared his vision for Goodflex. It was a business that we had no trouble in getting enthusiastic about and over the months we've worked together on skills, recruitment, supply chain and of course, funding. Having the University of Gloucestershire's SEED Fund is a great tool for business growth in the county and we were so pleased when Goodflex's application was approved.
Dr. Basil Omar, Enterprise and Incubation Manager at University of Gloucestershire commented;
We approved the Goodflex Rubber application for SEED Funding, seeing in it a promising project that would bring economic growth and job creation to the local area. It will also support a number of apprenticeships within the business. These are three big focuses for the University of Gloucestershire.
Mark Dufty, Managing Director of Goodflex, said;
This extension doubles the size of our company, but it's easy to forget that 14 years ago I was sitting in an empty unit with no machinery and I'd just walked away from a great, secure job. Our journey has been incredible but the balance sheet doesn't show our greatest asset; our staff.

I would also like to thank The Growth Hub and the University of Gloucestershire. They have been absolutely amazing and helped us secure up to 20% towards this investment.
To find out what The Growth Hub and University of Gloucestershire can do for your high-growth business, get in touch 01242 715400 / talktous@thegrowthhub.biz