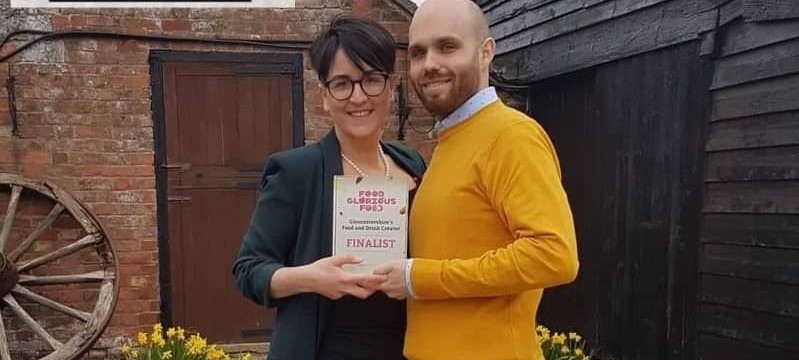 Family run business, Non Solo Pasta was approached by Yesim Nicholson, Cirencester Growth Hub Manager, and invited to Lets Graze, a monthly networking event for food and drink businesses in Cirencester at the Growth Hub.
Following their attendance, Matteo Conte and Clara Cardillo signed up to get additional support from the Growth Hub and met with Navigator, Stephen Meyer who signposted them to Growth Hub Business Guide, Peter Brown for additional business support. Peter was ideally placed to give them further expert support due to his background and experience in FMCG.
The couple wanted to enter the Food Glorious Food competition and Peter helped the couple to connect with experts to develop their packaging ready for retail commercialisation which would be a requirement if they were successful in the competition. Non Solo Pasta was one of the 10 finalists in March 2019. In January 2020 they began distributing their retail range to 16 Midcounties Coop food supermarkets located across the Cotswolds. At the same time, they had continued their market stall business model and additionally branched out to collaborate with other local businesses to offer event catering. Then in March, all retail demand had ceased, and the couple could no longer attend market or events. There was no route to market for their food brand.
The couple had to reconsider their business model and adapt if they were going to find a way to survive. As parents to two small children, they had to think quickly, stopping was not an option. They decided to use the loyal customer base from Cirencester market and offer home deliveries. At the same time, they were approached by a local community delivery service to join their platform. 
Clara said:
We had to diversify our service offering because our entire business model was non-operational. The home delivery partnership turned out to be very successful. We reached an entirely new customer demographic of younger families that we didn't serve at the markets.
The couple saw a big increase in social media activity from this new customer segment so adjusted their marketing to capitalize on all the activity and focused on new digital campaigns. Along with this, they created special menus for seasonal days like Father's Day and Easter and saw that this was a successful approach.
Before meeting with the Growth Hub and working with their business guide, Peter Brown, the husband and wife team were running the business from their kitchen and hadn't yet thought about manufacturing and commercialising their business. Market stalls were the heart of their business and they had not considered how they could scale.
Through working with Peter, their Growth Hub Business Guide, they saw new growth opportunities and rented industrial kitchen space the Cirencester University kitchen which allowed them to scale up their operation to meet the retail opportunities that now form part of their business strategy.
Peter said:
The primary focus for the Growth Hub was to support the Non Solo Pasta brand to take the next step up and to commercialise their market stall business to retail production for speciality grocery stockists like the Midcounties Coop. The free webinars and strategic support from the Growth Hub around brand creation, pricing strategies, communications and marketing were where we were able to add real value. I  also connected them to a networking partner who is a food regulatory professional. That is what we do – we connect clients to business partners who are exactly what they need, to grow their businesses to reach their unique business goals.
To continue their success and growth opportunities, the couple opened up a pop-up shop in the Five Valleys Indoor Street Food Market in Stroud in July. With the COVID-19 restrictions, they started slow, however, they saw an organic increase in August when restrictions lifted and the Eat Out to Help Out Scheme was running.
Of this time Clara said:
This helped to bolster our business. It is a very difficult time for everyone, we don't know what is happening from one month to the next. We do know that had we not been approached by the Growth Hub last year we would be in a very different position now, and for that, we are so grateful.
Clara and Matteo plan to continue to be open to all opportunities. After being able to produce larger quantities at the rented industrial kitchen, they have converted their garage and fitted out a commercial kitchen to be able to stay agile in the current situation. Home Deliveries now form a major pillar of the production, sales strategy and this diversification have allowed them to grow their business during the pandemic.
If you are a business owner and would like fully-funded business support, you can unlock a wealth of information and support from our Business Navigators and Guides.