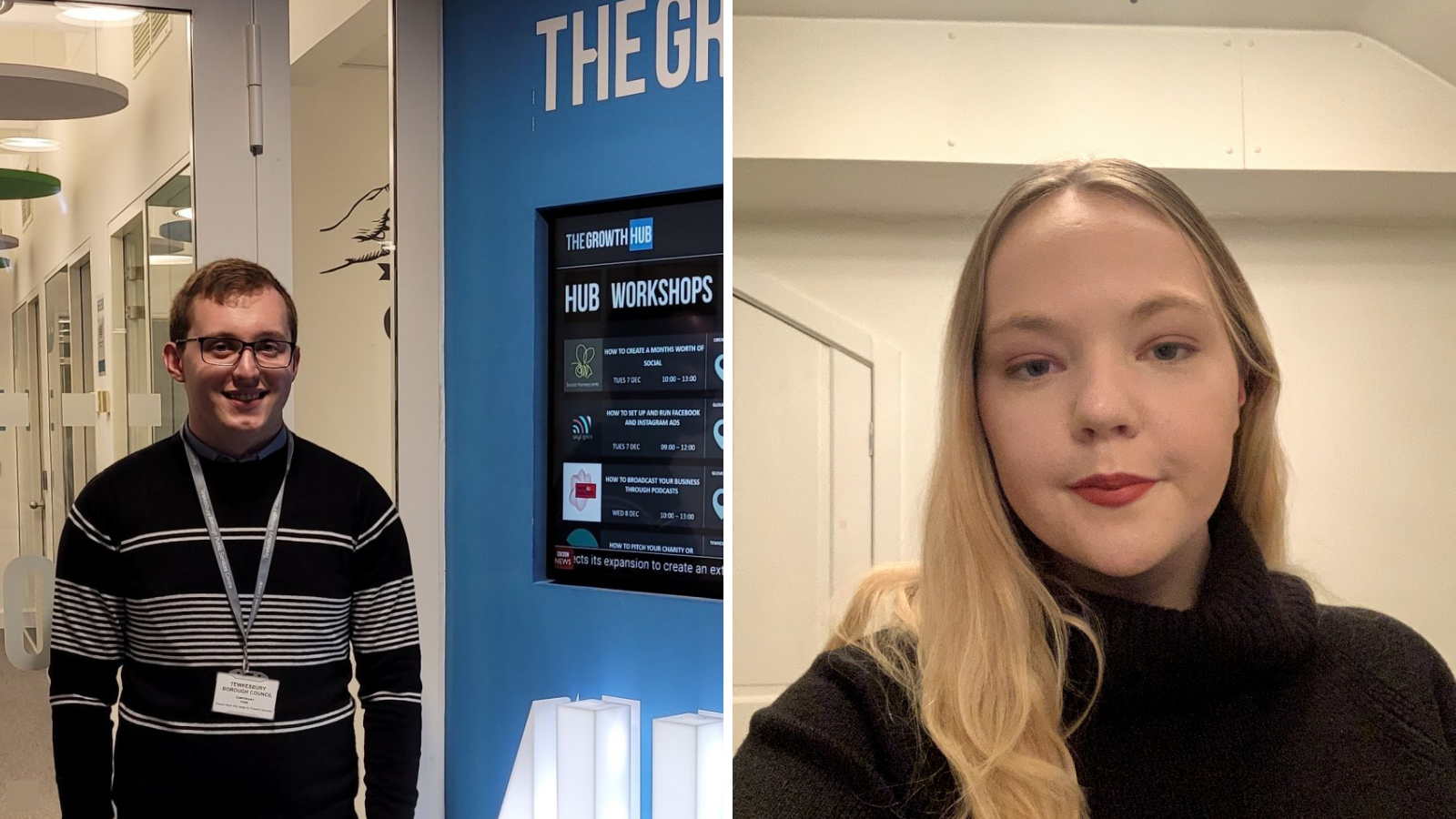 Tewkesbury Growth Hub has been part of The Growth Hub's county-wide network for over three years. During this time our Tewkesbury team has helped countless local businesses in the borough grow. And the team behind the hub has done some growing too…
Joining Olivia Mayo, Business Navigator, and Katie Power, Manager of Tewkesbury Growth Hub, we'd like to welcome Charlotte Lyons-Martin and Callum Franklin-Bailey to the Tewkesbury team!
Get to know Charlotte and Callum below.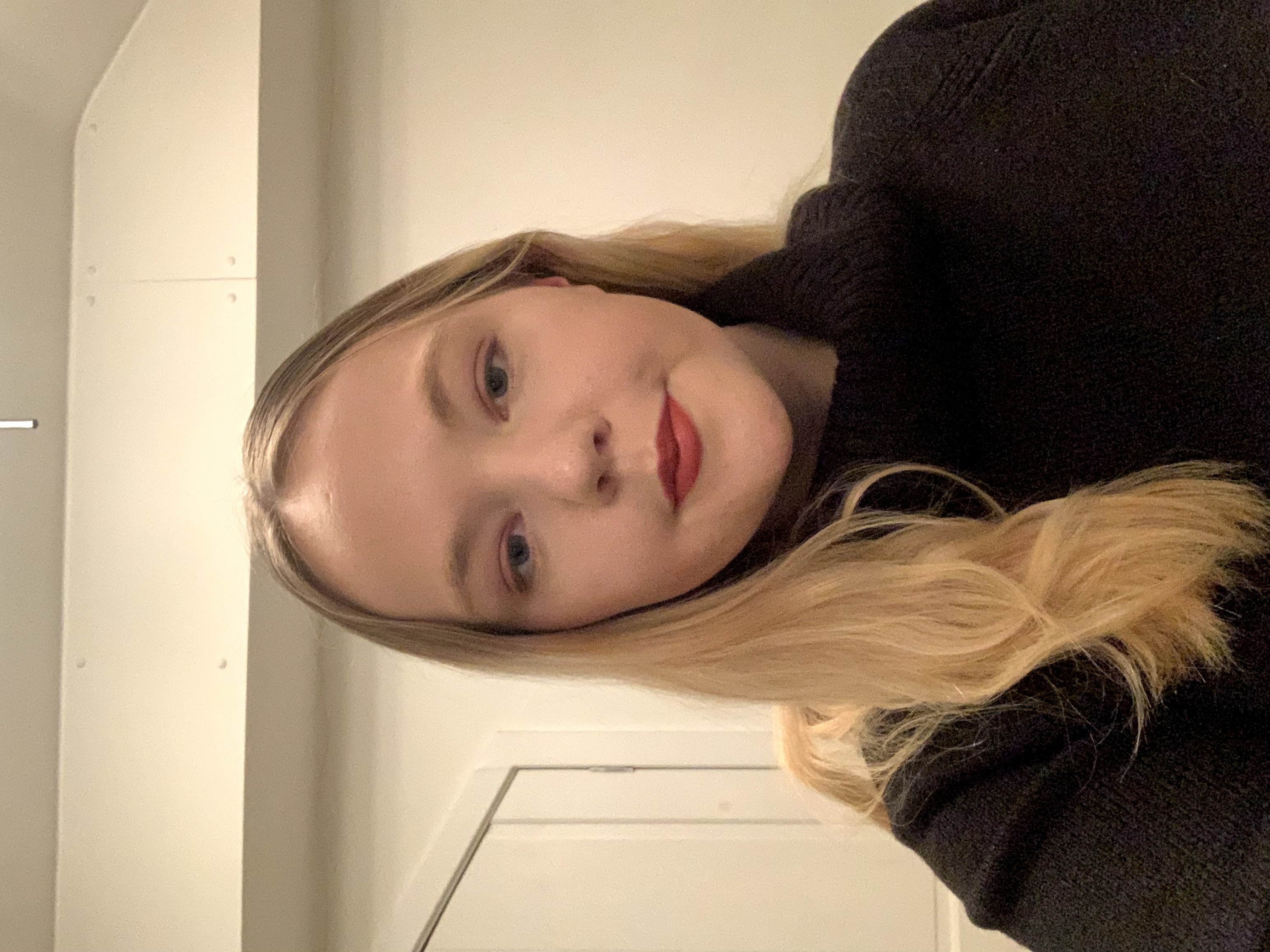 Charlotte Lyons-Martin, Economic Development and Tourism Assistant
My name is Charlotte and I am the Economic Development and Tourism Assistant for Tewkesbury Borough Council. As part of this role, I coordinate and oversee the marketing and events for Tewkesbury Growth Hub.
My role involves managing our social media platforms such as Twitter, Instagram, and LinkedIn. I try to come up with new and exciting content which can be useful for local businesses. I also work behind the scenes for our events including contacting businesses who may be interested, booking new events, setting up and running the events as well as collating feedback and liaison with delivery partners.
Tewkesbury Growth Hub is a busy environment with lots going on – so I also help the team with other aspects like meetings and welcoming clients.
Tell us a bit about you
I grew up in Devon before moving to Gloucestershire to study International Hospitality and Tourism Management at the University of Gloucestershire. I knew that I wanted a role more focused on the tourism and business support side, as I already have a lot of experience in the hospitality field. So the role at Tewkesbury Growth Hub and Tewkesbury Borough Council provided the perfect opportunity for me to help local businesses grow and support local industry sectors such as Tourism. I am based within the Tewkesbury Growth Hub and have had the opportunity to get stuck in and help as many businesses as possible which has been great.
Why do you love what you do?
I am passionate about my role as it allows me to talk to all the wonderful businesses around Tewkesbury Borough and beyond. I am a people person which is great with this role as I get to meet new people all the time. The role also allows me to proactively help and support businesses which is great as I love to see them benefit.
What's the best thing about Tewkesbury Growth Hub?
There's a lot! I would say the two main things is helping and meeting new businesses and our fab team I work with. Tewkesbury Growth Hub is a great space to visit with a real buzz and community feel – so please pop in and see us! We also have a range of other business support services on site such and Planning and Environmental Health - with skilled officers, who can help you with the business questions you may have.
How can a local business get support from The Growth Hub?
There are lots of ways the Growth Hub can support local business in Tewkesbury. It can range from them popping in for a chat to discover how we can help your business to grow, giving us an email or a call, having a dedicated 1-2-1 discovery meeting with our skilled navigator, using our free space to work, booking a meeting room or attending one of our many events that range from workshops to one-to-ones.
One piece of advice for Tewkesbury businesses?
My one top-tip to give businesses in Tewkesbury is to come and speak to us at The Growth Hub. This can be for support and advice or just for a friendly chat. You never know what you may learn.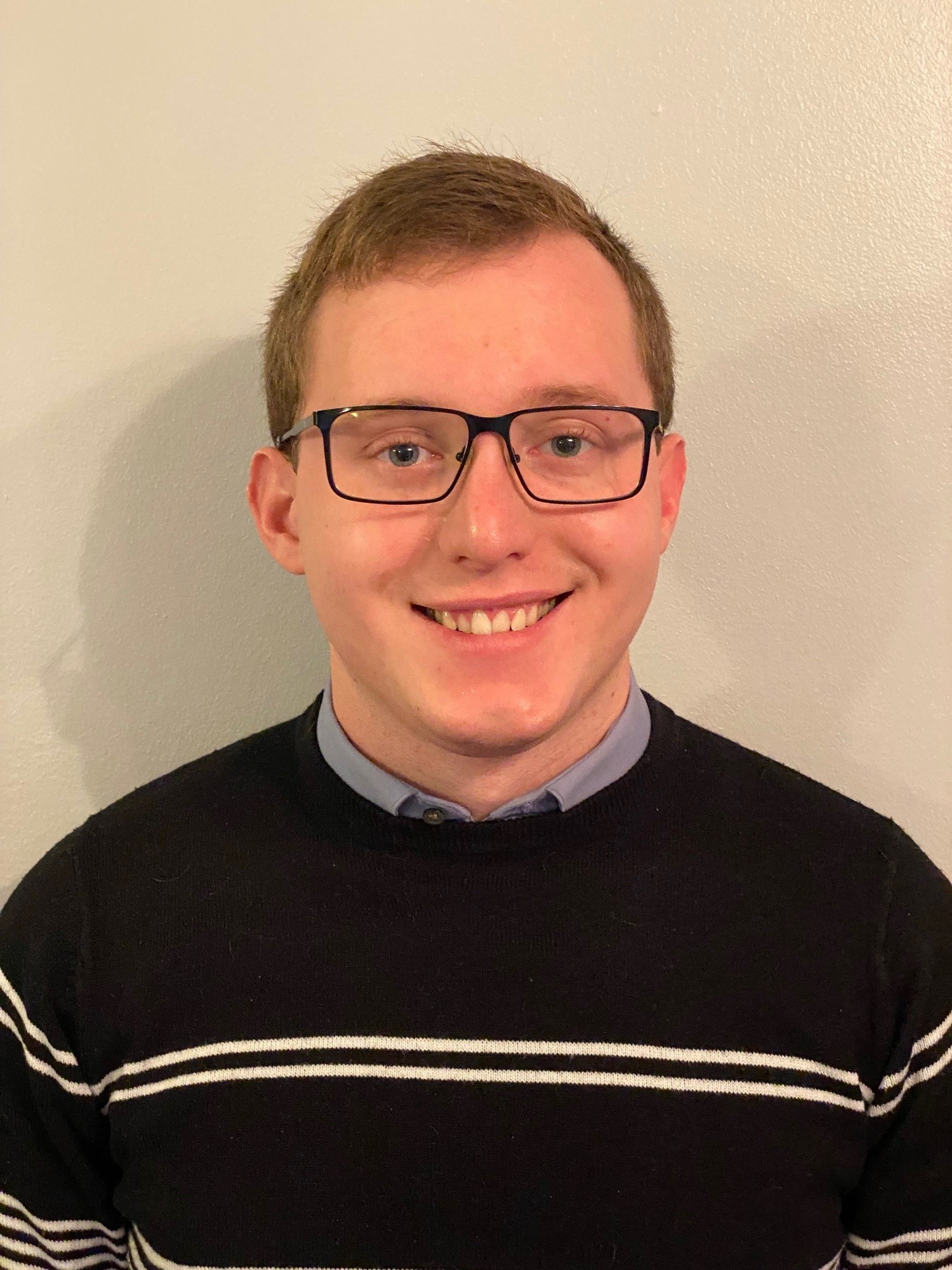 Callum Franklin-Bailey, Growth Hub Apprentice
Hi! My name is Callum and I'm a Business and Growth Hub Apprentice at Tewkesbury Growth Hub.
My role at Tewkesbury Growth Hub is really varied and involves supporting the team across all areas of business support delivery. This can range from supporting event set up and delivery, hosting and welcoming businesses to the hub on the front desk, updating websites, completing after-event admin work, helping with marketing and much more.
Tell us a bit about you
I was drawn towards working for Tewkesbury Growth Hub because I had previously undertaken work experience at Gloucester Growth Hub, which I really enjoyed. I have always wanted to help people, and in this role, I can help businesses realise their true potential and assist them in their growth.
In my spare time I really enjoy photographing nature and the outdoors, as a camera can capture things that we sometimes can't see. I also enjoy listening to music and reading books in my free time.
Why do you love your role?
I am passionate about my role because helping businesses to grow is very rewarding, and I have always wanted to help people and the local community.  
Where can businesses find Tewkesbury Growth Hub?
The best thing about the Tewkesbury Growth Hub is its location. Being located in the Tewkesbury Borough Council Offices, we get to speak to all the other departments throughout the building, which can help support businesses and provide useful skills. We can direct businesses to the correct department in the council who can give them the support they need. The space is very open and modern as well.
What can The Growth Hub offer local businesses?
The Growth Hub can support local businesses by hosting online and in-person events and one-to-ones, where they can get tailored support. These events are perfect to learn new skills which could aid in the growth of their business and to network with other local entrepreneurs. The hub also offers free 1-2-1 support meetings providing business support and guidance with one of our experts. If you are a local business, why not pop in and see what the hub can offer or use our free co-working space!
One piece of advice for Tewkesbury businesses?
Whether you are a massive multi-million-pound company or a little start up, every business started from nothing to become what they are today. If you persevere, work hard enough and believe in your business, it will open the potential to grow and thrive.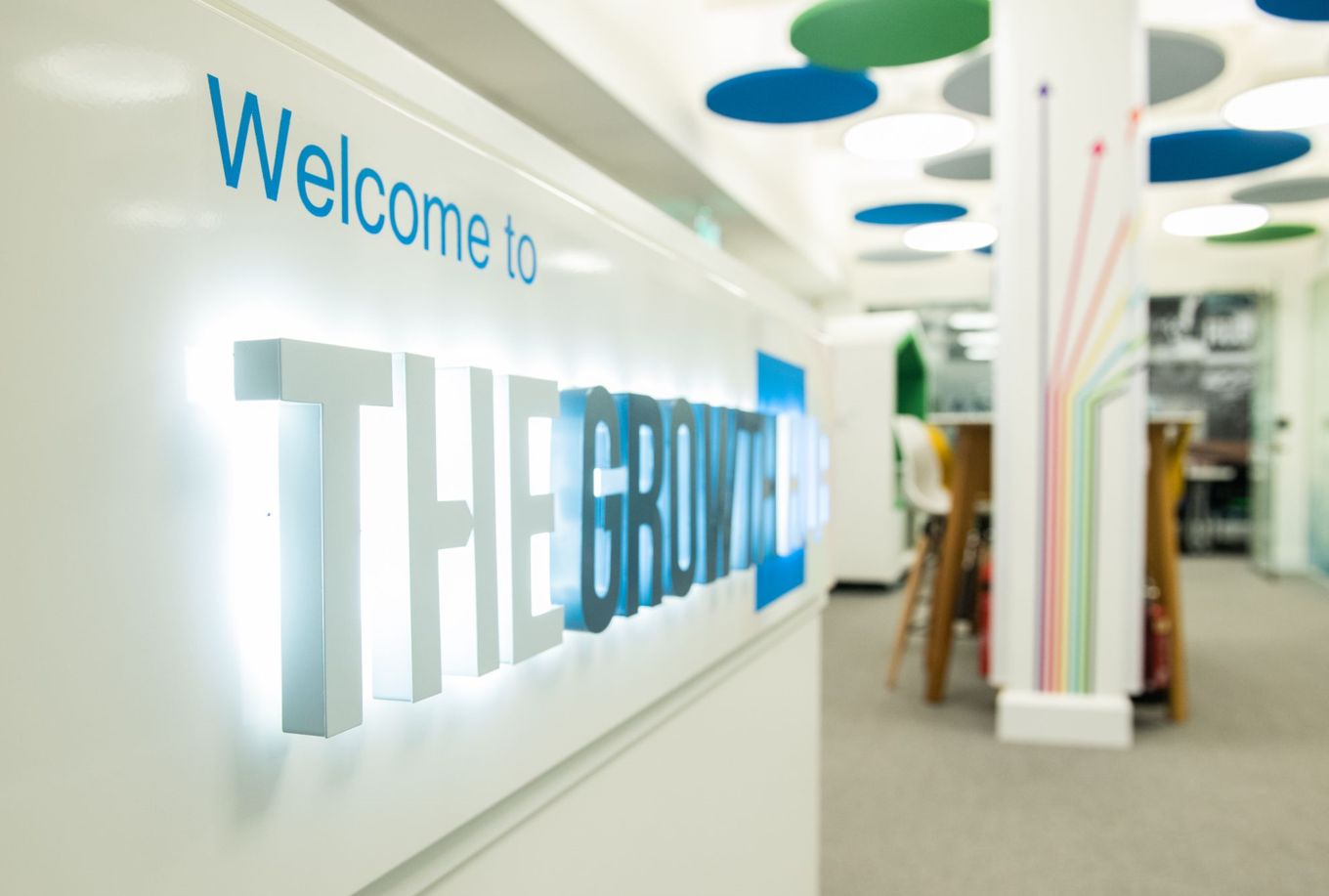 Get support from Tewkesbury Growth Hub
Whether you're are also looking to grow your team, expand into new markets or simply want to build on your success, our Tewkesbury Growth Hub team are ready and waiting to support you.
You can apply for support here or drop-in to the hub to discuss your needs further.
Tewkesbury Growth Hub is also open for co-working. If you are tired of working from home or need somewhere to focus, our coworking space is the ideal place to visit. Open to all, simply let our team know you are coming so we can reserve a desk space for you.
With office space and a spacious meeting room available for hire, it's a one-stop-shop for growing businesses. Find out more here or contact the team via: tewkesbury@thegrowthhub.biz