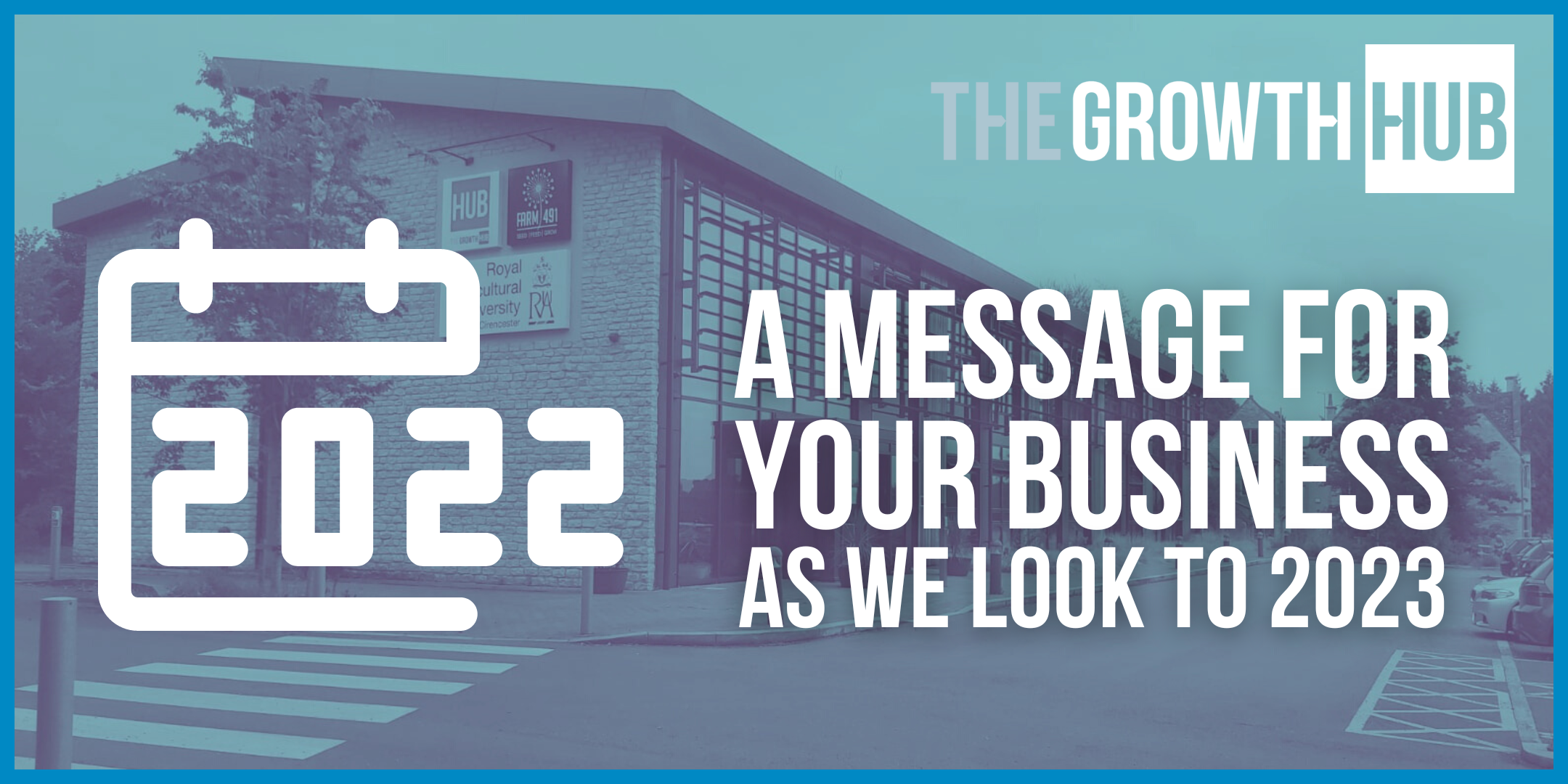 The end of the year can often be a chance to reflect on what's happened in the last 12 months and make plans for the year to come.
Whether your 2023 goal is to brush up on your social media skills, finally nail a business plan that will bring about the success you work so hard for, or build connections to help you grow, we're here for you. Our teams across the county are all available until late December (final closing date and time for the Christmas break varies by Hub, please check individual Hub pages or contact the teams directly). If you want to use the end of the month to get ahead for the new year, remember you can access our digital resources 24/7 by making yourself an account, or book onto our 2023 events while your diary isn't too busy. 
Our Hubs across Gloucestershire wanted to share their best wishes for you and your businesses as we head into 2023. 
Laura & Amy would like to wish everyone a very Happy Christmas from the Forest of Dean Hub and we hope you have an exciting year ahead, full of growth, success and new opportunities.  Thank you to our office clients and members for being part of the Growth Hub and the community we are building.  We are looking forward to welcoming lots more businesses, offering support and putting on further fantastic events in 2023! 
With the Stroud Growth Hub initially opening on the cusp of Covid, 2022 has only been the first full year where we have been fully operational in the Stroud valleys. We have seen a whole rainbow of new products and services which with support from the Growth Hub have the potential to grow and generate wealth and employment for the County. Our team feel lucky that we have been able to engage with such a wide variety of local businesses including hotels, camping sites, web designers, retail shops, fashion houses, interior design companies, photographers, importers and exports of fabrics, auction houses, garden centres, travel businesses, landscape architects, and engineering companies.
We continue to be amazed at the dedication of our delivery partners and their willingness to give freely of their time, and would like to thank them for their continued support. We are also thankful for the opportunity to facilitate start-up support for a group of Ukrainian guests, alongside a range of workshops and events now held primarily in person in our fantastic Board Room space. 
We encourage you to raise a toast to yesterday's achievements and tomorrow's brighter future. the Growth Hub Stroud Team, Chris, Richard, Kate and Laura.
As another busy year draws to a close, we wanted to thank our community here at the Cirencester Hub for their continued support. We remain in awe of your ability to innovate, collaborate and champion each other and the Cirencester Hub. We feel lucky to be part of the community, and hope you have learnt as much from us as we have from you! Looking forward to next year, we hope to see some new faces in our space and on our events. If you've ever wondered how to join our friendly and welcoming space, then make it your new year's resolution to get in touch! We'd love to find out how we can work together. All the best from your Cirencester Growth Hub team.
The Team at Tewkesbury Growth Hub would like to wish our fantastic local businesses all the best for the festive season and a very Merry Christmas! We look forward to welcoming you back in 2023 and helping lots more businesses with their growth journey in the year ahead, offering support to seize opportunities and take on new challenges. Our Team would also like to thank our amazing delivery partners, tenants, co-workers and businesses who have supported the hub in 2022 and who have helped make our local businesses community what it is! We can't wait to work with you in 2023!
Gloucester businesses have seen a number of challenges and opportunities in 2022. But we've still seen businesses grow beyond their expectations, develop new products and services, and expand their teams. As we look to 2023, we're excited about what it holds for our city and the businesses based here. From the opening of the Food Dock, to the new University City Campus, the future is bright for Gloucester.  Our team would like to thank all of our Delivery Partners, businesses who use our co-working spaces, and the organisations we've worked with. We'll be here as you plan for 2023, and can't wait to see how we can help.
We would like to pass on our thanks to everyone who has been a part of the Cheltenham Growth Hub this year. We've welcomed new Delivery Partners to our community, worked with incredible businesses driving change in sectors like Cyber and Technology, and supported countless businesses on their journey to growth. We are obviously especially excited to welcome in the new year as it will see the opening of our new home at the Minster Exchange which will supercharge our integration with our digital and creative communities. If you'd like to learn about how you can be part of the Cheltenham Growth Hub in 2023, drop us an email.