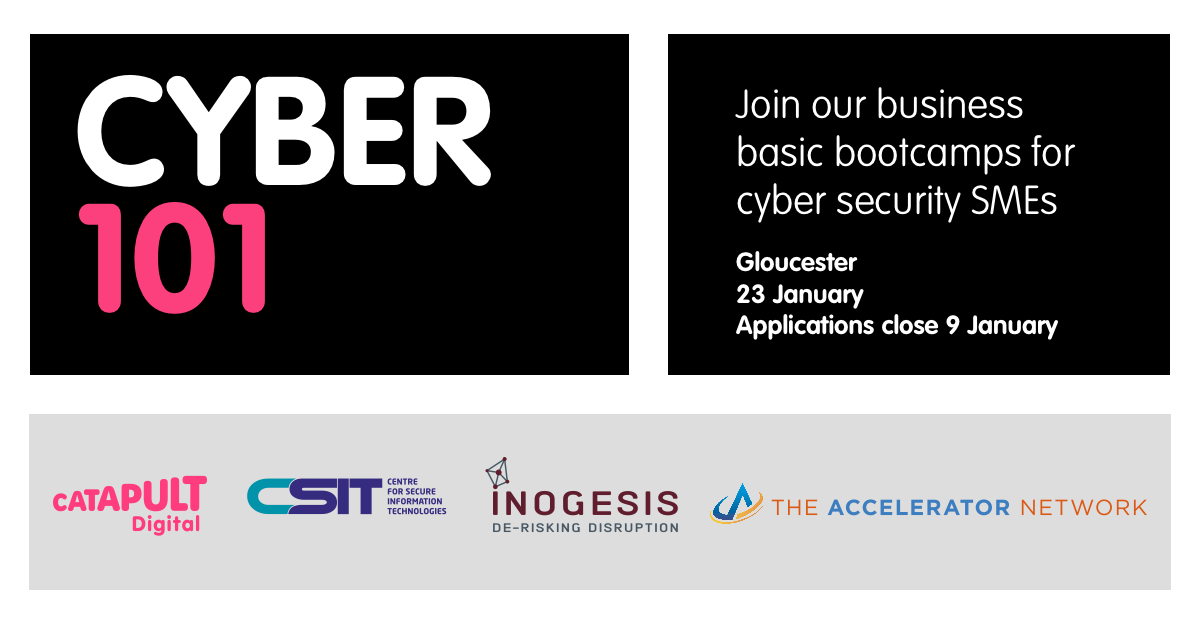 The beating heart of Gloucestershire's cyber security community has attracted a national programme from Digital Catapult, which has announced a £1.1m programme to deliver cyber-focused advice and mentoring programme. Aimed at cyber security SMEs, the training is designed to help increase the size of the UK cyber security market and improve their success rate in the early stages of the business life cycle.
2017 has seen an evolution and explosion of online threats unleashed by cyber criminals. This has left cyber security teams across all industries scrambling to find effective ways to defend their assets. The stage is set and through the Cyber 101 Programme, Digital Catapult is looking to help SMEs take advantage of the increased demand for their advanced and purpose built cyber security solutions. More than that, Digital Catapult is looking to support small and medium sized businesses to hone their go to market strategy and overall business effectiveness so that when those opportunities do arise, they are best equipped to seize on them.
The Cyber 101 project will be delivered with the support of a number of consortium partners each with expertise in cyber business development, including The Accelerator Network, CSIT and Inogesis. The programme will run for four years, starting with a pilot project delivered between January and April 2017. Cyber 101 will provide cyber security companies across the UK with access to mentoring and advice, access to intensive workshops, online learning content, as well as connections to public and private customers and the investment community through an annual demonstration day.
The training is designed to help support cyber security businesses hone their business skills and will provide guidance on specific business essentials, such as value proposition design, market validation, sales and marketing, risk management and compliance and digital tools that can help them expand and export.
Dr Jeremy Silver, CEO, Digital Catapult:
Cyber security has become a tier one threat in the UK with the threat landscape evolving at a rapid pace. The Government is committed to supporting the UK's ability to defend itself from cyber-attack and take action against cybercriminals. A significant part of this comes down to removing barriers to growth and supporting innovation in this space, in turn helping foster leading cyber security companies in UK. The Cyber 101 programme is specifically designed to help achieve these aims.
Gloucestershire can look forward to a full day of coaching, mentoring and training on Tuesday 23rd January 2018. Interested businesses can find out more about the day and apply by visiting The Growth Hub events page.
We are also looking for experienced local specialists, who would like to help facilitate and share their knowledge on the day; to complement the national partners. Interested mentors can get in touch via marketing@thegrowthhub.biz.