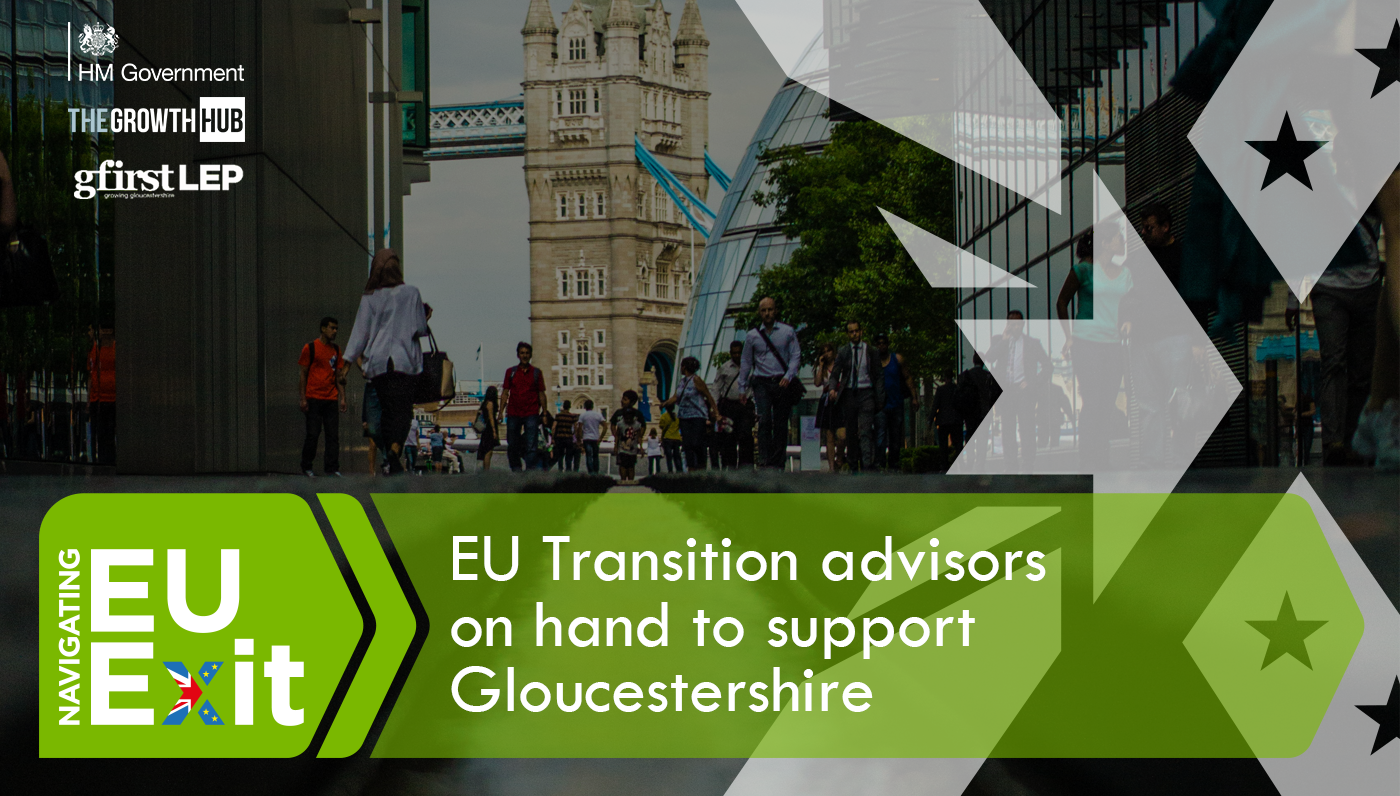 The UK will shortly leave the single market and customs union, and the impact of a deal or no-deal scenario will come into play.
We recognise that a lack of clear information is preventing preparation, so together with GFirst LEP and HM Government, we have appointed a new team of EU Transition Advisors. Available immediately and at no cost, they will be on-hand to answer (or find the answers to) all of your concerns and challenges around EU Exit.
Individually, they represent a wide range of International skills, knowledge, and sector experience. Together, they form a first line of support for all of your EU Exit queries. They will be staging a number of events, publishing insight and resources, and taking direct one-to-one meetings with local businesses to collaborate and find solutions.
You can reach the team by emailing euexit@thegrowthhub.biz.

Matt Rigby
Hello, I'm Matt Rigby and I lead the EU Transition support team for Gloucestershire.
For the last 25 years, I have held multiple senior roles across hospitality and retail. As a change manager, my strengths lie in navigating and leading people through tough situations - not least of all the challenges of 2021 for Gloucestershire businesses. Myself and my team will be at your disposal over the next quarter, to help you identify the challenges and opportunities presented by EU Exit. Between us, we have a vast network of contacts and resources, so we can help you find shortcuts and quicker wins when it comes to making positive steps forward next year.
 
Kim Rodway-Pugh
Hello, I'm Kim and I'm here to help you find the solutions to your EU Exit challenges.
Over the past 30 years, I've worked across sales, support, analysis, and research in a variety of sectors;  including food, hospitality, insurance, and automotive. As a former business owner myself, I know the pains of having a hundred questions and not knowing where to find the answers, and as a world traveller, I feel both the personal and the commercial side of wanting to stay connected to the international stage. I want to help Gloucestershire businesses maintain their ambition, and continue to grow unhindered by the impact of EU Exit.
 
Toby Waller
Hello all, I'm Toby, an EU Transition Advisor for The Growth Hub in Gloucestershire.
I bring to the table more than 25 years of experience in publishing and its supply chain, including extensive work with off-shore teams and international sales. In a sector where nothing happens in siloes, I know the unparalleled importance of businesses keeping their international lines open, and I want to make sure that our county's growing firms aren't left behind.
 
Richard Morgan
Hi, I'm Richard, here to help all Gloucestershire businesses prepare for life after the EU.
As a former city trader for international investment banks, and having grown up in Hong Kong, I have always been a globalist when it comes to business. My passion for Europe in particular is partly what motivated me to build (and later sell to a venture capital company) my first pan-European hospitality business. Now, I run a leadership and management training company, focussed on helping business owners grow and develop their firms. In my role as EU Exit Advisor for The Growth Hub, I want to bring to bear all of my experience in running businesses, advising on complex financial cases, and working across borders; to help local companies stay competitive in this brave new world.
You can reach the team by emailing euexit@thegrowthhub.biz.