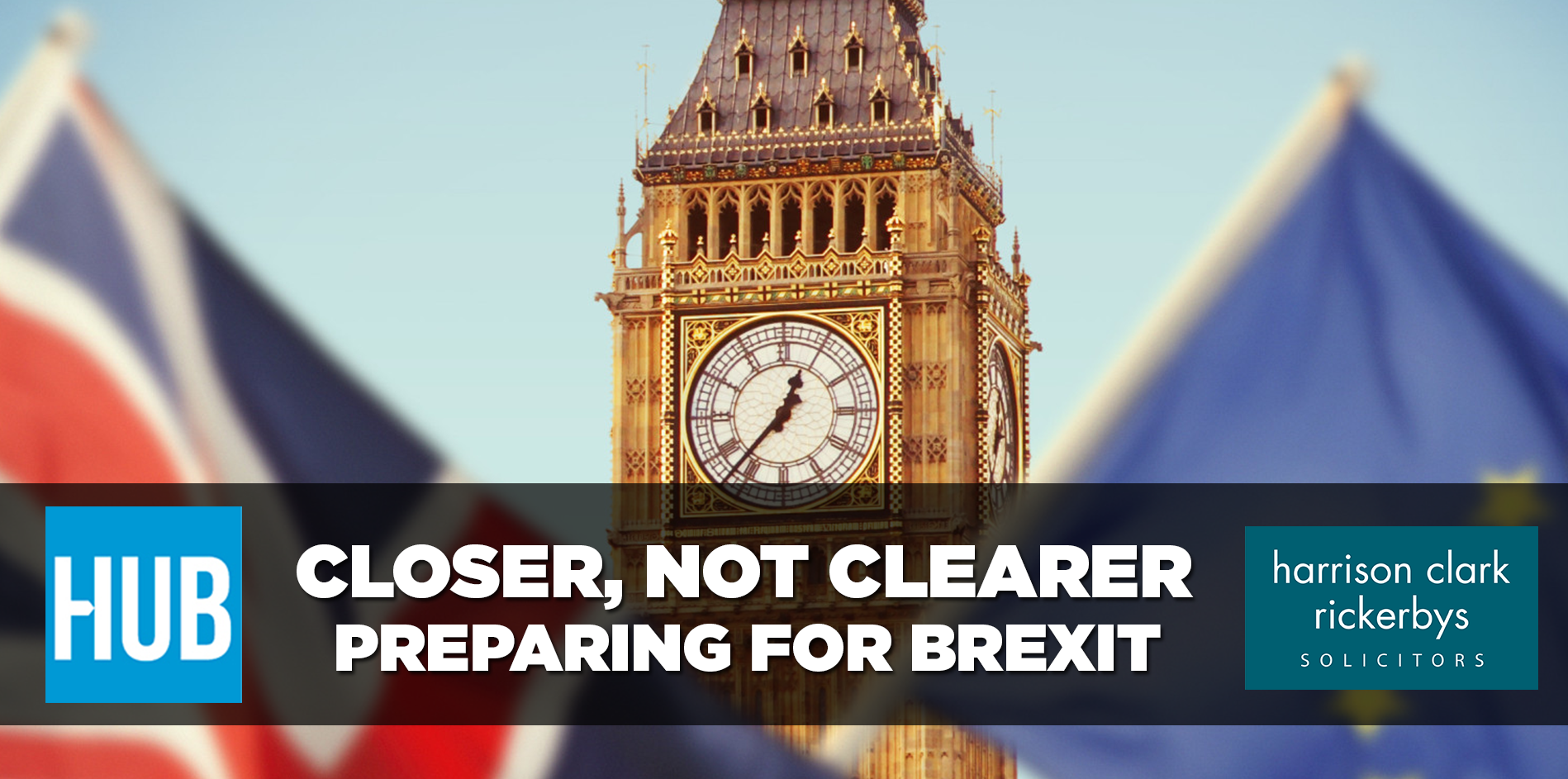 This post was written by Robert Capper, Head of Sectors and Head of Commercial at Harrison Clark Rickerbys. As part of our Gloucestershire Expertise series, we are giving local leaders the opportunity to share their knowledge and experience, to help other ambitious enterprises grow. If you would like to contribute to the series, please email ross.jukes@thegrowthhub.biz

Robert shares his carefully considered thoughts on how businesses might prepare for the unknown...
EU Exit affects every business in the UK, even those who don't trade outside the UK – supply chains, staffing and the simple logistics involved in keeping your business running smoothly are issues which affect all companies at some level.
And British business is responding to EU Exit, even before it happens – a glance at the global picture shows our exports of goods and services to the rest of the world outstripping our exports to the EU, which have been falling from 55 per cent in 2006 to 43 per cent in 2016.
The trend is clear – even with favourable tariffs and the political will to deal with the EU, the pull of the larger markets held sway. After all, the EU accounts for eight per cent of the world's population and 15 per cent of its GDP, and both figures are shrinking each year.
Whatever the future holds in terms of trading abroad, business should keep a close eye on intellectual property (IP) protections, including patents, trademarks, registered design rights and copyright which could change with a new approach to trade. Audit those IP protections now and double check when the dust has settled.
Companies should also update their business operation software to prepare for the potential extra burden of customs checks – HMRC estimates the number of customs declarations will rise from 55m to 255m annually.
Firms shouldn't be gloomy over labour shortages - 92 per cent of the world's population live outside the EU and they should no longer be the less preferred option.
Whatever your views on EU Exit, UK commerce is going to change. Being ready to meet that change, go through the inevitable transition period and emerge on the other side with new commercial relationships, will be the mark of success.
For those looking to trade beyond the EU, some key strategic moves to consider are:
Obtaining Authorised Economic Operator status - time-consuming to achieve, but speeds customs clearance

Making a plan B – consider warehousing or alternative transport methods to deal with border delays

Ensuring cash flow for VAT and additional inventory

Checking international contracts – make sure they are strong enough

Reviewing supply chains.
For those who rely on other countries for materials at some point in the supply chain, practical action taken early will be invaluable. A readiness to consider trading outside the EU – with the US, for example - or more with the island of Ireland, are among the strategies being adopted.
Some advanced manufacturing firms have set up ring-fenced EU Exit teams and they are reporting in to the board on key issues, including supplies, customs delays, logistics, costs and skills shortages.
How to keep the supply chain running smoothly is a major issue – stockpiling has been proposed by some businesses but rejected by others, partly because of storage problems but also because it would drive up prices.
There is also concern about skills shortages and how the UK could address the need for more engineering and technological skills within the country, perhaps through universities.
Education institutions not only have a major part to play in providing the UK workforce with the skills needed, but also have to negotiate the complexities of EU Exit themselves.
The funding of apprenticeships is one concern for colleges across the country; while EU Exit won't necessarily affect the apprenticeship model, it will affect the number of people going into apprenticeships, what happens to them afterwards and the rules and regulations around delivery.
EU funding is currently available for apprenticeships, but there is no proposal currently for the Government to match that funding once the UK leaves the EU.
Addressing skills shortages and the future of global recruitment are at the forefront of educators' minds.  Our schools and colleges also welcome students from all over the world, and access to our education system is valued, so continued access is a concern, as is staffing.
Workforce planning is becoming increasingly important and while the number of EU workers coming to this country is already falling, the future doesn't have to be all doom and gloom.
Fears over labour shortages focus only on the fact that fewer EU workers will have access to jobs in the UK, but that doesn't acknowledge that the UK would be seen as more open to workers from non-EU countries. For many businesses, this is very attractive.
A transition period would give businesses time to adjust to the loss of access to the EU pool of workers and decide on a way forward that works for them. Businesses could also consider how to make themselves more attractive to the UK workforce.
Most firms want to make sure that their most business-critical roles are covered – if EU citizens are in those roles now, those people can be kept in post with some input from the business. You can:
assist them to seek permanent residency

make sure they feel welcome and valued.

check who is eligible for settled status (EU citizens who have lived here continuously for five years before the transition period ends)

check eligibility for pre-settled status (EU citizens who have lived here continuously for less than five years by 31 December 2020)

explore the possibility of a seasonal worker visa, if your business is eligible.
Businesses in all sectors are likely to have more flexibility in finding and recruiting the people they need, but they will need to plan ahead and see the changes as an opportunity to reassess what and who they need.
The scrutiny of business needs which EU Exit is forcing upon many commercial operations could lead to positive change and innovation, as well as preparing businesses for uncertain times ahead.
Harrison Clark Rickerbys are one of the headline speakers at The Growth Hub's upcoming EVOLVE III programme, which will provide thought-leading guidance on how to prepare your business for life after EU Exit.

To apply for your free place, please complete this short form.