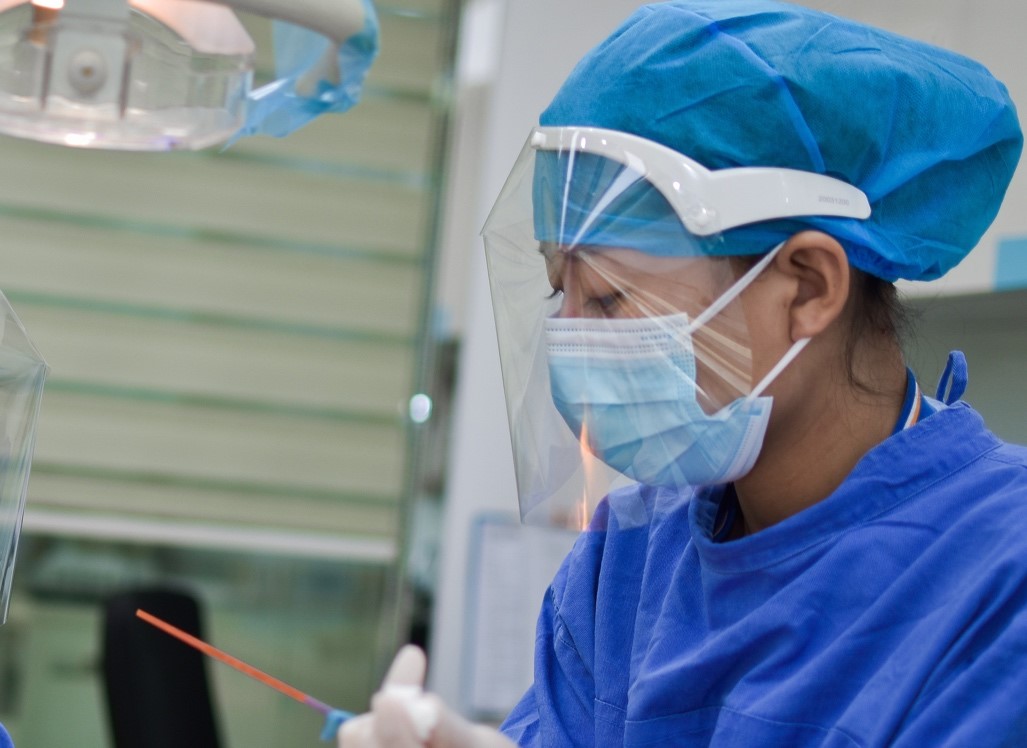 In 2019 Adam Soble, MD and owner of Cotswold Printing Company, was signposted to the LEADER program by Growth Hub Navigator Agi Seabright.
Through this scheme Adam applied for, and secured, funding for new equipment to expand his business. This, in conjuction, with the expert free direct business support he received from Business Guide Andy Kime, set him on a path to becoming not only a highly profitable business but also the largest supplier of face visors to the Gloucestershire Hospital Trust during the height of the COVID-19 pandemic. Here he shares how Growth Hub support allowed him to support his local community when it needed it the most. 
After securing his LEADER funding in 2019, and planning for the future of his business, in early 2020 the talk of the pandemic started making the news. Adam felt a huge responsibility to his staff and he began thinking about what they could do as a business to help their employees. Adam said:
I told them that I wasn't sure what we were going to do, but we were going to do something. In March I sent them home to keep safe and gave them online training modules to keep them busy whilst we tried to find opportunities.
Then the PPE shortages started to make headlines and Adam knew that with the new equipment he had purchased that they could help by cutting the material needed to make visors. They approached Gloucester Royal and spoke to both the hospital and community trust to find out if they would be interested in Cotswold Printing suppling visors. Adam felt a huge sense of social responsibility to help the pandemic, from looking after his staff to the broader community. When relaying this, Adam said: 
The shortage was so bad that they asked us to supply as many as we could make. At that stage, we had managed to secure a load of plastic and we could make roughly 45,000 visors which both the hospital and trust committed to. We wanted to help. We had the kit that could actually help the pandemic. There was just no way I was sitting back; I didn't care how long it took or how much it cost. We only wanted to cover the cost of the materials and we didn't ask for anything more. We weren't strategising so we didn't look at competitor prices or to capitalise on profit margins.
 
Next, they started a community production system, with visors being cut at Cotswold Printing, then sent elsewhere for assembly and returned to Cotswold Printing for distribution. At the 15,000 mark the NHS declared they had enough PPE and ceased ordering. With the excess materials and the talk of lockdown restrictions lifting, Adam decided to create a PPE range for businesses needing to fit out their stores according to the new regulations. For this to be a success, Adam knew that he had to develop his eCommerce strategy and he quickly got this in place to be able to capture the demand.
This traditional printing business discovered an entirely new consumer market through eCommerce, with big corporations like the BBC, Ikea and UK theme parks purchasing their new COVID-19 line of products. Previously the business that did 1-2 online sales a month was reaching 100+ online sales a day. Production lines had to change, transit packaging needed adapting and staff needed new ways of working implemented to create the best efficiency with this rapid change.
Adam commented:
It has made us realise that we aren't going to go back to the old business format and be that local printer. It was easier to find customers online nationally than it was locally. It also meant that we had less customer-facing time and could deal with customers purely over the phone and by email, which helped with production efficiency.
Andy, the Growth Hub Business Guide that has been supporting Adam in his business, said that he was struck by Adam's future vision:
When it comes to Adam's business he is always thinking "what next" and he has an innovative mindset, so is unafraid to take risks and trial different diversification strategies. The reality is that I have seen him go on a journey over the last decade from a risk taker to a strategic risk-taker. Adam's future view allows him to take calculated risks once mitigation strategies have been considered. He has a strong moral compass; an energetic work ethic and he has looked after his staff and local community during the Pandemic.
Through registering with the Growth Hub, Adam was able to work with the Growth Hub team which enabled him to access the LEADER program grant to purchase the equipment needed to expand his business. The same equipment which allowed Adam to create protective products for the local healthcare organisation when it was most needed.
Adam summed it up by saying:
Andy has always been there to bounce ideas off, and I really value Andy's opinion on business. If it wasn't for the Growth Hub, we wouldn't have been able to help in a time when the world really needed it.
If you are a business owner and would like fully-funded business support, you can unlock a wealth of information and support from our Business Navigators and Guides.