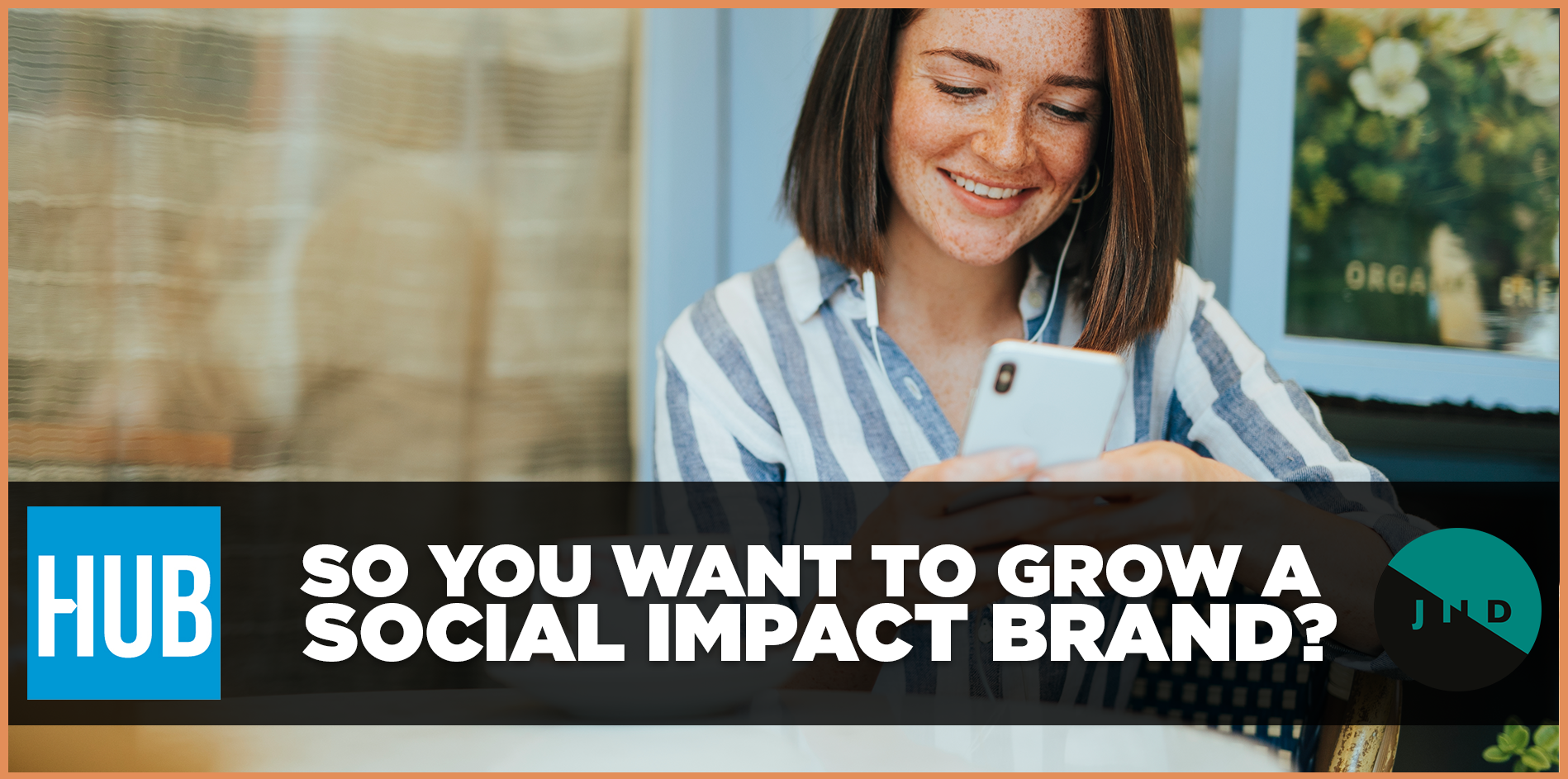 This post was written by Janina Neumann. Janina is a bilingual graphic designer, intercultural management trainer, and business owner of Janina Neumann Design, JND. Design for social change was and still is, her mission in business. JND is a bilingual design company, helping clients create a social impact in the UK and abroad. The bilingual focus ensures clients can communicate their message equally effectively across different languages and cultures. Another key focus is diversity management, where JND helps organisations integrate business practices across cultures; from communication and organisation to leadership and etiquette.

As part of our Gloucestershire Expertise series, we are giving leaders the opportunity to share their knowledge, experience, and personal stories to help other ambitious enterprises grow. If you would like to contribute to the series, please email marketing@thegrowthhub.biz.
Your company has ethics, style and a superior product offering, but how do you use these to grow your social impact brand?
More than ever, businesses are thinking about how to use their power for the greater good. Apart from being the right thing to do for society, it's also the right thing to do for business:
research conducted in 2019 found that 81% of us say our trust in a brand to do what is right is an important factor when making a buying decision.
But how do you communicate your values to the wider world so you can achieve your mission and grow your business?
The answer is to consistently demonstrate your purpose impact across all your brand touchpoints.
If you're just starting on your business journey, you'll need to understand your market, define your message and choose your media. It is important that you follow this process, because otherwise you will grow a brand that does not speak to its audience, and you will have less of a social impact.
Once you understand these factors, it's time to consider your branding.
When you want to see where you are now and where you want to get to, a social impact brand audit is a valuable exercise.
Let's look at each of these in turn.
Understand your market
Market is about finding an audience that will buy from you, values what you offer, and will become long-lasting fans.
One of the first things I would recommend doing is talking to your ideal market. Did they buy your product/service? How much did they pay for it? Are you happy with how much they paid for it? Is what they paid for it sustainable in the long run? If you feel awkward talking about your business with your ideal market, then you may be lacking in brand confidence. It is important to acknowledge if you have a lack of confidence in your brand because it will impact the way you make decisions and, hence, social impact that your brand makes. Think about the brand you want to be in five or ten years' time. You need to have confidence in it right from the start if you want to grow your brand so that you can achieve your mission and deliver the social impact that you want.
Define your message 
Growing a social impact brand is also about getting your message spot-on. Your brand is there to tell a story. What problem does your brand solve? What facts do you have to demonstrate that you solve this problem? As social entrepreneurs, we often focus on our values and mission, and these are indeed very important. However, our audience is focused on what benefits them. Your values and mission will help to establish brand loyalty, so that your customers continue to support you in the long-term.
Choose your media
Finally, choose the media that will deliver the most impact for your audience. Where does your market 'hang-out'? What frame of mind is your audience in when they experience a brand touchpoint?
It is also important to understand the different powers of a personal brand and business brand.
Your personal brand will help you attract PR opportunities, build networks for collaboration, and reach key stakeholders that can help you deliver your social impact.
Your business brand is focused on positioning your brand as a credible leader in achieving the company's mission. It is about creating and building on a movement that will help you deliver a social impact. To do this you may also consider building a network of brand ambassadors, who can promote your message when you're not there, and can reach a part of your market that you currently struggle to reach. Make sure that your brand ambassadors are trained in your brand ethos and values, so that anytime someone comes into contact with your brand, they have a consistent experience and feeling about your brand. This will help build your brand recognition, deliver your mission and create a social impact.
The Kapferer Brand Identity Prism
To understand brand values, I use a tool called 'The Kapferer Brand Identity Prism' with my clients. It is an important tool for businesses that want to reflect their core values in their brand. The prism is made up of physique, personality, culture, relationship, self-image, and reflection.
Physique: The underlying physical characteristics of your brand. Is your brand just online or does it also have a storefront?
Personality: The character of your brand. Is your brand sincere or youthful?
Culture: The culture, values and demographics of the country where your brand originated. Is your brand local to the UK or do you work with a partner from another country?
Relationship: The relationship between your brand and its customers. Do you greet your customers with their first name or do you use their surname?
Self-image: How the customers of your brand see themselves. Do your customers feel more confident or more secure after interacting with your brand?
Reflection: How the brand perceives its audience. Does your brand perceive its audience as vulnerable or determined?
Auditing your social impact brand
To understand where your brand is at and where you want it to be, I would recommend this auditing tools, which is based on the Google study, Zero Moment of Truth.
Draw three columns. Label the columns brand touchpoint, hours of engagement and location.
Write down all your brand touchpoints. Brand touchpoints include logo, business stationery, website, Google MyBusiness listing, podcast.
Write down where customers may experience each brand touchpoint. For example, online, print, in person or at an exhibition.
Write down the average time that someone may engage with your brand touchpoint.
Add up the total number of locations, types and hours of engagement.

'Zero Moment of Truth' found that before a customer buys from your brand, they will have experienced an average of 11 brand touchpoints and seven hours of engagement with your brand touchpoints in four different locations. Knowing this, you can understand where the gaps are and start to consider how to fill them.
If you need help with growing your social impact brand, Janina is delivering free 1-2-1 sessions at the Tewkesbury Growth Hub every month. Apply for your place here.