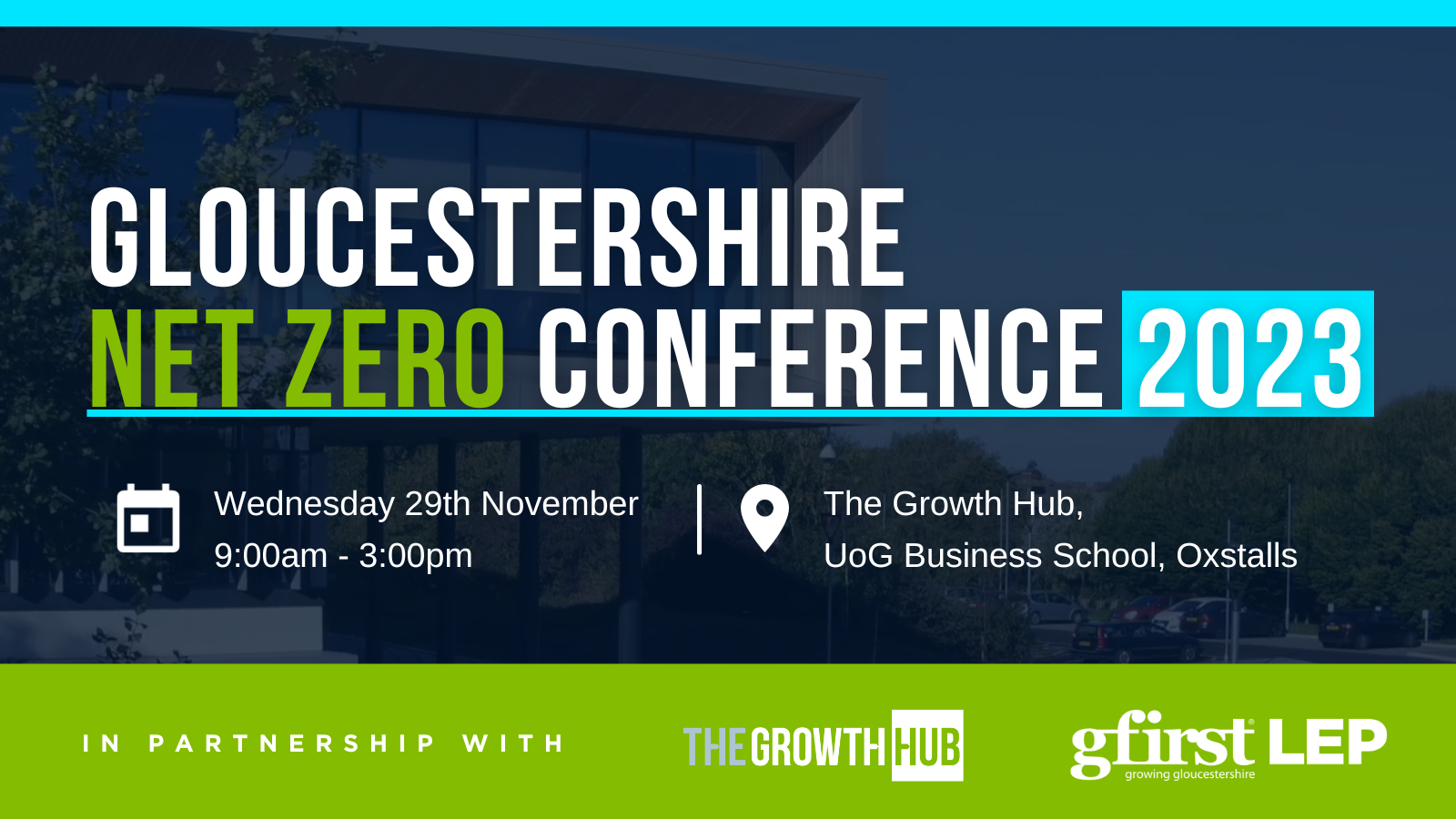 Attend, collaborate and connect with organisations to accelerate the counties' progress towards Net Zero.
GFirst LEP and The Growth Hub are excited to bring you another inspiring Net Zero Conference this November!
Bringing together a wide array of Net Zero and Sustainability business leaders from across the county, this event will demonstrate how to build your journey towards Net Zero.
An exciting array of Gloucestershire businesses will share valuable insights as they talk about their experience; offering inspiring and creative ways to decarbonise your business and help to tackle the climate crisis. Gloucestershire has a hive of sustainable businesses, and experts, and as a county, our vision is to be recognised as a leading example of Net Zero and Sustainability Innovation. There is no better time to join the charge and be a part of Greener Gloucestershire.
We are pleased to welcome speakers from Barnwood Group, MyPower, Stroud Brewery, Hawkwood College and Andrew McKenzie from the Growth Hub.
 
Register now!
Entry is free and tickets can be secured on Eventbrite here: https://tinyurl.com/yezkh2kk

Please note, due to the overwhelming demand for last year's conference, tickets will be limited to two per organisation, giving more businesses the opportunity to attend.
Conference Agenda
8:15am – Arrival, registration, and refreshments
9:00am to 9:30am – Introductions
9:30am to 10:30am – Session 1
10:30am to 10:50am - Break for networking
10:50am to 12:15pm – Session 2:
12:15pm to 12:40pm - Session 3: Panel Session facilitated by Ruth Dooley, Partner at Hazelwoods LLP and GFirst LEP Chair the of Board.
12:40pm – 12:50pm – Conference Close
1:00pm onwards - Lunch, Exhibitor showcase and Networking
After hearing from our specialists, we have a generous diversity of exhibitors consisting of local businesses, demonstrating their Net Zero successes, showcasing their products and services, and steering you towards local help and support.