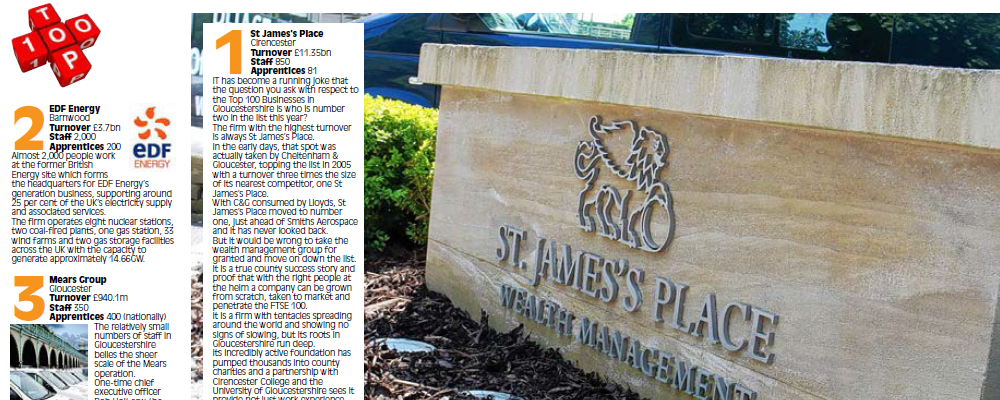 Every year, the team at Southwestbusiness.co.uk dedicate months of hard work to compiling a comprehensive list of the Top 100 Businesses in Gloucestershire. Based on company turnover, the list identifies the big-hitters in the county but also the ones-to-watch in regards to growth.
We have a vested interest in seeing the names on the list each year, not least of all to celebrate how our support has been helping Gloucestershire businesses grow. The publication again highlights how diverse and robust our county's economy continues to be, even throughout uncertain times. Last year's list was published with David Cameron in Number 10 and Article 50 still months away from being triggered. A lot has changed since then, but has the list?
St. James's Place, Cirencester
EDF Energy, Barnwood
Mears Group, Gloucester
Spirax Sarco Engineering, Cheltenham
SuperGroup plc, Cheltenham
Safran, Gloucester
Colt Car Company, Cirencester
Renishaw, Wotton-under-Edge
Ecclesiastical Insurance, Gloucester
Masstock Arable, Cheltenham
Whilst we don't see a new business take the top spot this year, the main story is newcomer EDF Energy; placing 2nd with its £3.7bn turnover. Absent from 2016's list, EDF's inclusion has pushed everybody on the otherwise-static top 10 down a place - albeit Safran's staggering growth (£518m to £713m) has seen them jump above Colt Car Company this year. 
To see the full list, along with the 'Bubbling under' businesses, visit the 2017 Top 100 Businesses in Gloucestershire.
To compare to last year's, visit the 2016 Top 100 Businesses in Gloucestershire.