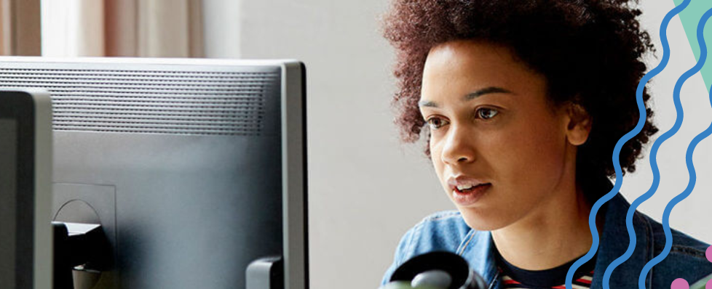 The University of Gloucestershire has been named as one of 13 providers that will deliver new national Skills Bootcamps as part of an Institute of Coding-led programme recently announced.
The Institute of Coding (IoC) is a collaborative national consortium of industry, educators and outreach providers that are working together to respond to the UK's digital skills gap through the delivery of employer-led digital skills education. The IoC consortium, which is led by the University of Bath, was announced by Government as a provider for the Department for Education's (DfE) Skills Bootcamps.
Skills Bootcamps are flexible courses of up to 16 weeks, giving people the opportunity to build up tech skills and fast-track to an interview with an employer. They are being developed by the Government as part of the Lifetime Skills Guarantee and Plan for Jobs, in partnership with employers, providers and local authorities.
The Skills Bootcamps will provide learners with best-in-class digital skills education and deliver resilient pathways to work, with learners receiving the opportunity to interview with an employer upon the successful completion of their Skills Bootcamp. 
As part of this provision, the University of Gloucestershire will deliver a national Cyber Analyst Skills Bootcamp through its Growth Hub, working with the IoC and a range of regional partners, including GFirst LEP, CyNam – an employer consortium representing Cyber-Tech companies in the region, Cheltenham Borough Council and the Golden Valley Development.
Collaboration between the partners will ensure that each step of the Skills Bootcamp journey is high-quality and tailored to meet the needs of employers and those looking to upskill to boost their employability.
By the end of the Cyber Analyst Skills Bootcamp, which will launch in September 2021, learners should be able to implement, maintain and support the security controls that protect an organisation's systems and data assets from threats and hazards. The University of Gloucestershire also offers a degree apprenticeship in Cyber Security.
If you are a prospective learner or employer and are interested in learning more about the IoC-led Skills Bootcamps, please visit IoCSkillsBootcamps.co.uk.
Professor Kamal Beckhoum, Head of the School of Computing and Engineering at the University of Gloucestershire, said:
Our Growth Hub has already benefited almost 4000 businesses, and now, in delivering new Skills Bootcamps, we'll be giving even more people the skills they need to meet employers' needs and narrow the cyber skills gap both in the region, and nationally.

Just like for our degree apprenticeship programmes, Skills Bootcamps will be co-designed and co-delivered with partners and employers, and learners will benefit from state-of-the-art facilities at our Park Campus. Our expertise, experience and sector-leading partnerships in the fast-paced world of Cyber make us perfectly placed to deliver these Skills Bootcamps, and we're looking forward to further developing Gloucestershire's already impressive cyber capabilities and reputation.
This news comes hot on the heels of the announcement that the University of Gloucestershire is establishing one of the first post-Brexit university partnerships in Europe, partnering with a German institution to set up a £4m Cyber and Digital Innovation Centre in Duren, Germany. Closer to home, the University's £3.6m Cyber & Digital Innovation Centre (C11) in Berkeley Green, offers a specialist secure environment for businesses and sector-leading testing and research. It recently hosted the C11 Cyber Symposium, which delivered a packed schedule of activities and speakers aimed at discussing solutions to the current skills deficit facing Cyber industry employers across Gloucestershire and South West England.
Rachid Hourizi, Director of the IoC, said
The Institute of Coding is pleased to be working with 13 respected UK universities to deliver 20 IoC-led Skills Bootcamps. This allows us to keep the focus on high-quality digital skills provision and builds on our existing 150+ courses, on which we've enrolled 900,000 learners to date. Our consortium has proven experience delivering best-in-class digital skills education that helps a diverse group of people into employment.