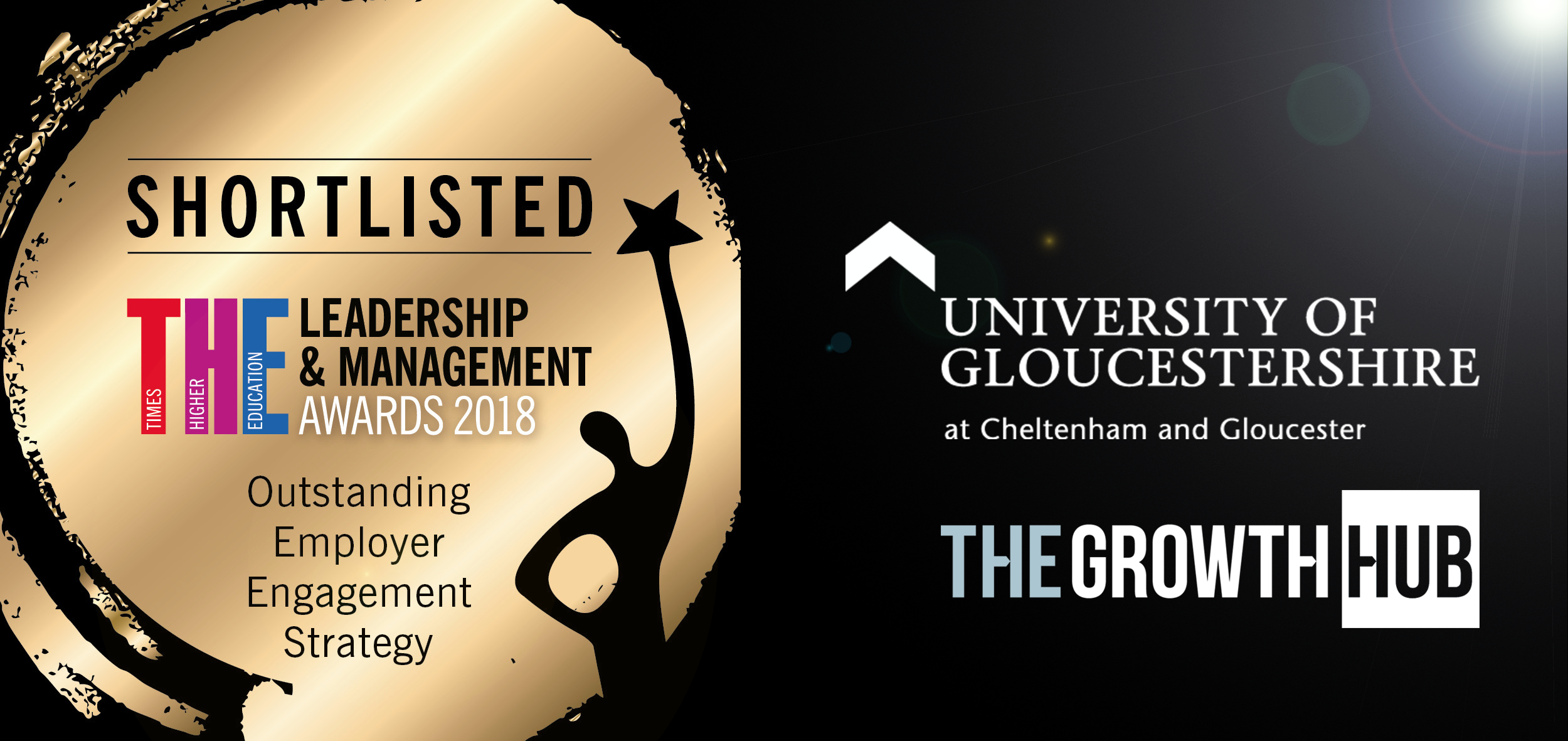 The University of Gloucestershire is celebrating success in being shortlisted for two awards in this year's national Times Higher Education Leadership and Management Awards (THELMAs). 
This follows the University's success in winning the top award in two THELMA categories last year - for outstanding financial performance, and for outstanding marketing and communications team.
This year's shortlisting recognises the University's achievements in two areas:
The Growth Hub at the University's Oxstalls campus has been shortlisted as an outstanding example of employer engagement and services to business.

The University's innovative new approach to the quality management and enhancement of teaching and learning has been shortlisted as an excellent example of Registry services.
University Vice-Chancellor Stephen Marston said:
For the second year running, the University's achievements have been recognised in this leading national awards programme.  Having been judged best in the University sector for two categories last year, I am delighted that we are again shortlisted in two new categories.

The University's core ambitions include providing outstanding teaching and learning for our students, and supporting business growth and economic development in our community.  So it is fantastic to get this national recognition for our work in both of those key areas.
Since 2014, 8,000 businesses have benefitted from the Growth Hub's business services to support growth, increase productivity and recruit new talent.
With funding from the Higher Education Funding Council (HEFCE), the University launched the Growth Hub at the Oxstalls campus in Gloucester.  It opened in October 2014 with one overarching objective: to help local businesses increase productivity and grow the economy in Gloucestershire. Three years on, the Hub has been a great success including:
Over 8,000 business support interventions delivered, with 905 accelerated growth interventions for high growth businesses.

1,872 University of Gloucestershire graduates taking up jobs in Gloucestershire.

The creation of 13,655 work placements and internships.
The independent evaluation report published in January 2018 (available here) surveyed a range of Growth Hub business users and concluded:  "There is a strong sense that the Growth Hub is delivering its objectives for business customers.  There is a high level of satisfaction with the services delivered by the Growth Hub."
As well as supporting businesses across Gloucestershire and beyond, the Hub is creating great opportunities for University students to build their contacts and understanding of what it is really like to set up, run and grow a business.  This commitment will be further strengthened in the next phase which will see the University's Business School fully integrated with the Growth Hub in a brand new building opening at Oxstalls this September.   With Growth Deal funding support, it will create a unique space bringing together businesses, students, staff and the full range of the University's business support and economic development activities in one place.
Sarah Danson, The Growth Hub Manager, said:
It's fantastic to learn that we have been shortlisted for this award. We're delighted that the very real impact that the Growth Hub has on Gloucestershire businesses, day in day out, has been recognised. Our unique status, as the only Growth Hub created through a University-LEP partnership, proves that this model can work; bringing academic excellence and commercial acumen together through a truly collaborative approach.
In the THELMA category for Excellence in Registry Services, the University's shortlisting recognises the innovative project undertaken by the University over the past two years to redesign from first principles our approach to the management and enhancement of the quality of our teaching and learning. 
The THELMA awards ceremony will take place on Thursday 21 June in London when the winners will be announced.
Has your business benefitted from The Growth Hub service?
Add your support on Twitter @thegrowthhubbiz using the hashtag #Thelmas