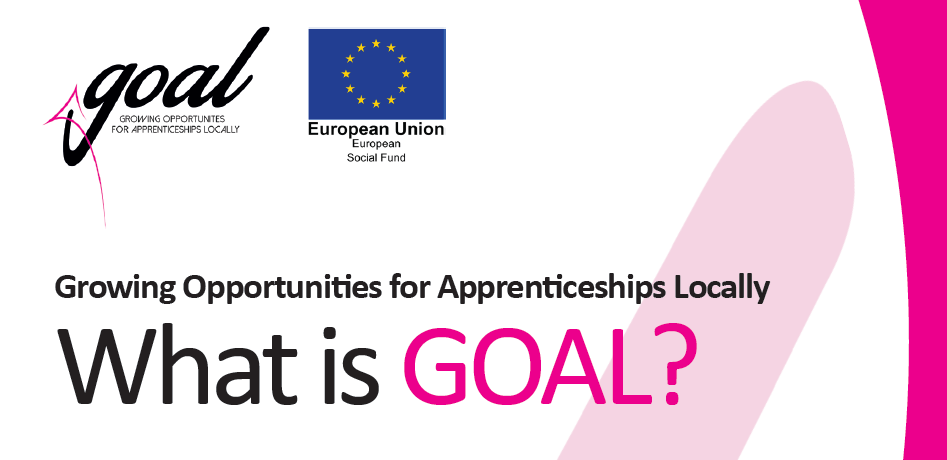 'Apprenticeships' (or more so 'the apprenticeships levy') is the hot topic on everybody's lips right now. But what about the thousands of SMEs whose wage bill falls below the £3m mark? What are the apprenticeship options for them?
GOAL, Growing Opportunities For Apprenticeships Locally, is an ESF (European Social Fund) project administered by a range of forward thinking educators in the county. SGS College, together with Gloucestershire Enterprise Limited, University of Gloucestershire, The Growth Hub and Gloucestershire College, are working with SMEs to train and upskill their existing workforce. GOAL is achieving this by:
Providing a free and impartial service to both learners and employers, raising awareness of apprenticeships, thus helping them to access support from both the National Apprenticeship and Digital Apprenticeship Services.
Mapping apprenticeship provision within Gloucestershire, identifying gaps and supporting the development of provision to meet these needs – making it easier for businesses to know who offers what.
Providing advice and guidance to individuals seeking apprenticeships.
Engaging with SMEs in Gloucestershire to identify how apprenticeships can support current business plans, as well as enabling future growth and sustainability.
Helping participants access apprenticeships opportunities in local SMEs. These will be employees of the SME or people recently made redundant and who are seeking Higher Level Apprenticeships
Providing learning to participants to overcome any barriers to starting an apprenticeship. Supporting participants to start an apprenticeship; continuing to support these apprentices during the first three months of their programme.
To find out more about GOAL, and how your business can take advantage, visit: www.achieveyourgoal.org.uk