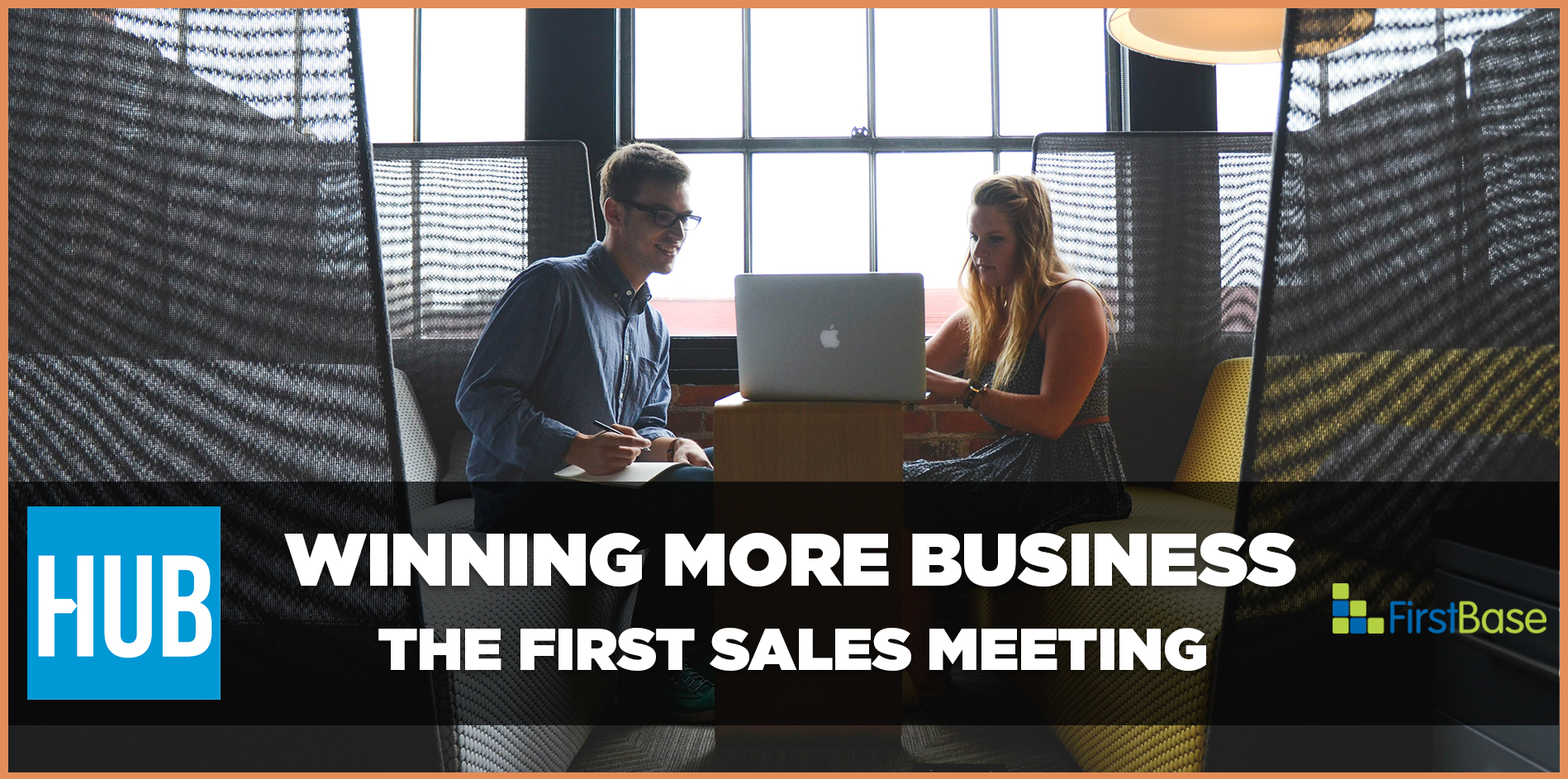 This post was written by David Tovey, Director of Stroud-based First Base Employment and author of 'Principled Selling - How To Win More Business Without Selling Your Soul.' As part of our Gloucestershire Expertise series, we are giving local leaders the opportunity to share their knowledge and experience, to help other ambitious enterprises grow. If you would like to contribute to the series, please email ross.jukes@thegrowthhub.biz

David is passionate about a modern trust-based and ethical approach to sales, and explains here how best to structure an effective first selling meeting:
Structuring a first meeting correctly is vital if you want the best chance of winning business – but for now you have to forget that your ultimate aim is to 'sell' something.
It might seem strange advice when I'm trying to help you win more business to suggest that it shouldn't be your main objective to walk away with an order at the first meeting; but I promise you will sell more and make more profit if you adopt this mind-set.
When the objective is to walk out of an initial meeting with an order it changes the dynamics and communication needed to build trust and the customers motivation to buy from you. The way you communicate verbally and through body language, when you are there to 'sell', risks giving out all the wrong signals. You risk spending the meeting always seeking opportunities to push your ideas, to have your say, pounce on what looks like buying signals and trying to 'close the sale'. Whilst it might have been the approach sales people were trained to adopt in the past, pushy selling is the antithesis of how to successfully grow business today.
The first meeting with a potential client is a golden opportunity to build a long term, profitable relationship.
The objective for an initial meeting should be to:
Motivate your prospect to engage with you in the meeting

Fully understand the prospects requirements

Build trust by being genuinely interested in their world

Add value by providing meaningful information that will help your prospect

Gain commitment to the best way forward after the meeting.
The Three E's
Most first meetings tend to be scheduled for an hour. The diagram below shows how an initial meeting should ideally be structured: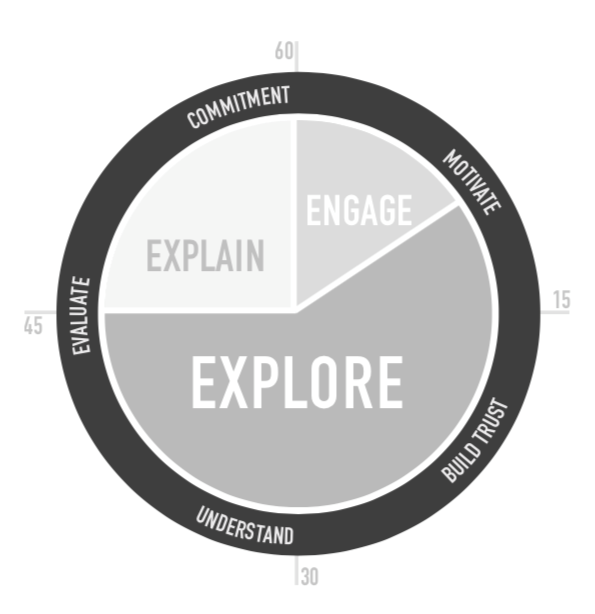 Around the outer circle of the model you will see the focus of your activity is with each step.
Step one involves motivating your prospect to answer questions and to be fully engaged in the meeting.
Step two involves insightful questioning and active listening to help you understand your prospects precise requirements and to build trust.
Step three provide you with an opportunity to provide information that is of real value to your prospect, for you to explain how you might help them and what the next best step might be after the meeting.
Engage – Motivate the customer to fully engage with you (10% of meeting)
Explore – Understand the customers' world and build trust (60% of meeting)
Explain  - Add value and gain commitment to the best way forward (30% of meeting)
Sadly, too many people still allocate their time in a way that means they do so much talking, pitching their products and services, that they end up having very little time to let the potential customer talk about themselves, their organisation and their real requirements. You can be as enthusiastic as you like about your own products and services AFTER you have fully understood, to the satisfaction of the customer, their world and their needs.
Seek first to understand then be understood. 

Dr Stephen Covey
Across the world, businesses I have worked with have told me that the potential suppliers they meet simply don't listen enough. The main reason that relationships don't blossom is that not enough time is invested in fully understanding customer's requirements.  If you don't fully understand their requirements, then you can't make the best presentation about how you can help them.
No more 'closing'
I have a number of books on my bookshelf all about 'closing the sale'. Most consist of tricks and techniques that are cringe worthy.  After working with clients all over the world, I have learned that customers hate being 'closed' and most people selling something hate or avoid 'closing the sale'.
When a salesperson uses a closing technique all the energy is coming from the seller. If you structure a selling meeting well, the motivation to move forward or to buy will come from the customer. Moving to confirming the go ahead, signing an order or agreeing a further meeting will be seen as a natural next step in the process. Often the prospect will be asking you what they need to do next.
If this approach is new to you I suggest that you practice using this three stage structure with your colleagues until you are comfortable with how to engage a potential customer, motivate them to answer questions, add value to the conversation and suggest the best next step.
Getting the first meeting right make the process of selling more enjoyable for you and your customer, is more effective and is the foundation for long term business growth.