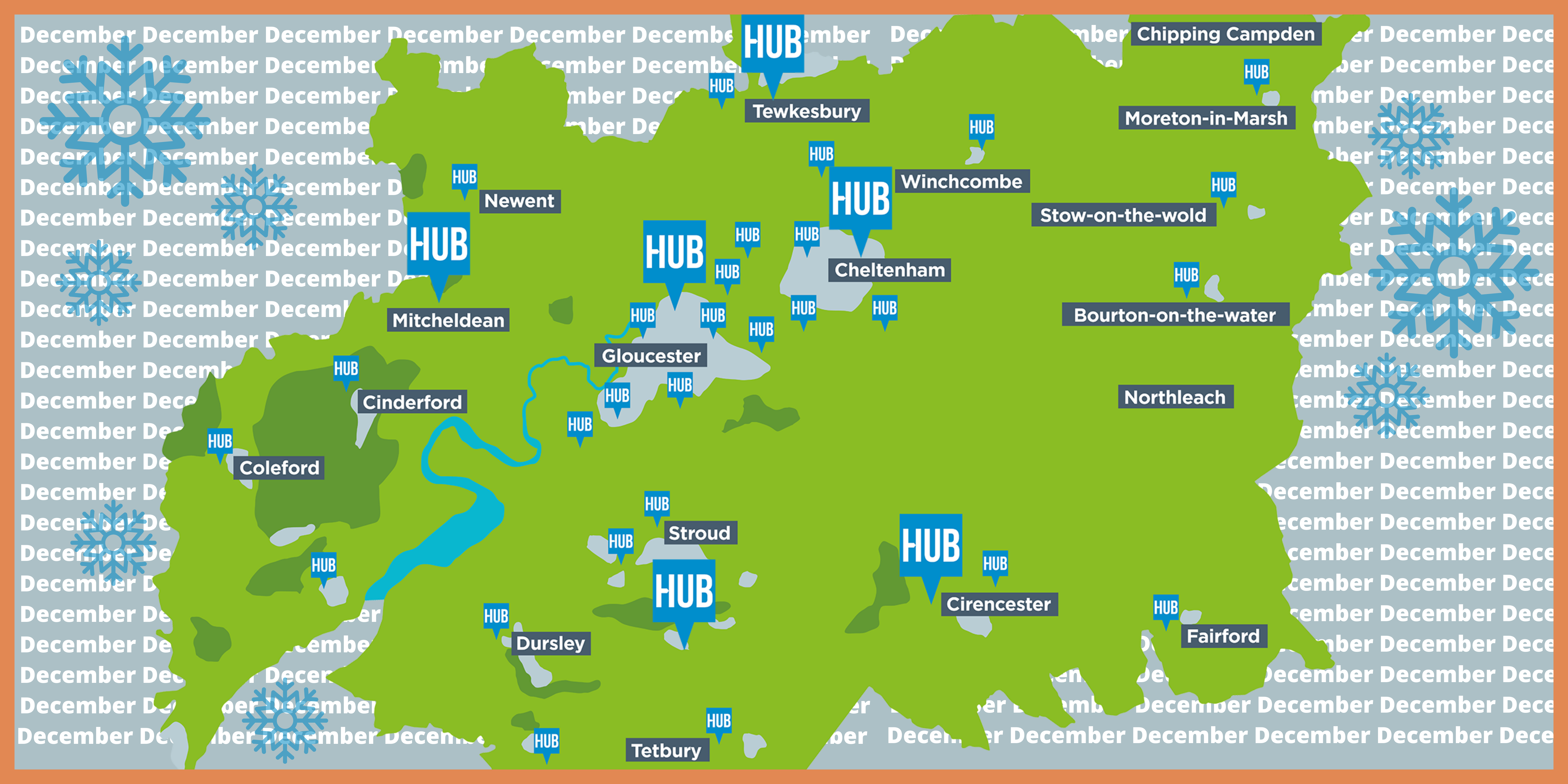 With our incredible network now standing at six locations, we bring you a monthly round-up of the breaking news from each Hub. It includes news of events, memberships, incubation offices to rent, new team members and the latest updates to help your business to grow, wherever you are. 
Cirencester
The Holidays are coming! The Holidays are coming!
And just like those big red trucks, Christmas comes rolling into town. Are you ready for it? We certainly are here at The Growth Hub in Cirencester. The trees is up, the decorations are in place, just like the main man himself, all our members, business owners and their families are powering on through with the festive season in sight.
What does that mean for us? Well, it doesn't mean we've taken our foot off the gas. There are still hundreds of businesses out there who need our help and support to get them through these challenging times – and that's what we're here for! Whether it's Social Media, Sales, Marketing, Finance, Property, Leadership, Networking (the list is endless), we have something for you, whatever your challenges are.
Tomorrow we have Caroline's ever-increasingly popular How to create a months' worth of social in a matter of hours workshop which you can book here.
Or, for January, why not kick off with a New Year's resolution to 'Get Inspired' by booking yourself a place at our very first, post-covid, Inspire Me Event with Purusha Gordon telling us how she actually broke a world record by rowing across the pacific with her Sheroes during a pandemic. Tickets are FREE, so get yours now here. 
Memberships continue to grow exponentially, with the possibility of a Wait List ever looming, and the Meeting Rooms are proving to be the best way to meet your teams off-site allowing you to be more productive than ever!
Why not give us a call on 01285 889 850 or drop us a line at cirencester@thegrowthhub.biz if you have you have any burning questions!
For more and up-to-date details please follow us on Twitter, Facebook, LinkedIn or Instagram. 
Cheltenham 
Face-to-face
We're back offering face-to-face support! Come on in to our current base at Hub8 and meet us in person for any support needs you might have. We're also offering support still over Zoom if you don't feel quite comfortable yet or just want the ease of a virtual meeting.
Day Passes
We've introduced day passes at the Hub8 Brewery Quarter location. If you want to work in a modern co-working space, but want the flexibility of picking the days that suit you the most? No problem! Come in any day you like with our new day pass. The standard rate is £20 a day, but Growth Hub members can get it for £15. We're also offering a Christmas special, 4-day trial to anyone looking to try out a co-working space throughout December.
We've had a jig around!
We've brought in a new team member to help take care of our socials. We'd like to introduce Cameron Carter, a marketing apprentice for Hub8. We've also want to welcome Claire Garbutt into her new role as Cheltenham Growth Hub manager.
Indeloy on the move.
Indeloy came to the Cheltenham Growth Hub for assistance and have recently experienced a wealth of success. Jamie Sleigh, Director and Co-Founder, commented: "Working with the Growth Hub has been a highly valuable experience, especially in the start-up phase of our business.  The expertise and guidance available really set out the key areas to focus on to be successful and being able to work through scenarios and have an interactive discussion with the team is hugely valuable to benefit from their experience".  This comes fresh off the heels of their SoGlos nomination and finalist position for the New Business of the Year award. Congratulations from all of us!
Stroud
Open Day Success!
On Monday 15th November Stroud Growth Hub opened our doors to businesses we have not had the pleasure of working with yet. 22 individuals from 16 different organisations came to see us, to learn about the support services we offer, look at the fantastic facilities, and meet the team. The day was a great success and we are currently working with many of those we saw on developing and growing their business.  
Crypto Currency Workshop Incoming
We are really pleased to have partnered with a local crypto currency expert who will be running a workshop for us soon. The workshop will look at what crypto currency actually is, how it can be used, and importantly how to recognise a scam. More information coming soon!
Office Space
We have 2 single occupancy office for hire, both are £200 per month + VAT. Both offices have lockable storage, free wifi, free parking and free refreshments! Please contact laura.gaiger@thegrowthhub.biz for more information or if you would like to take a look.
Christmas Opening Hours
We will be CLOSED for Christmas from 1pm on Friday 17th December, opening again 9am Tuesday 4th January.
Tewkesbury
Our team has grown!
At the end of November, we gained a new team member, Callum. Callum has come onboard as a Business and Growth Hub Apprentice and will help in supporting local businesses working within the Tewkesbury Growth Hub and Economic Development Team. Callum is looking forward to meeting and helping support businesses in his new role. If you see him around the Hub do introduce yourself to him! 
Free co-working space
Tewkesbury Growth Hub is open for co-working. If you are tired of working from home or need somewhere to focus, our co-working space is the ideal place to visit. Open to all, simply let our team know you are coming so we can reserve a desk space for you.
New events coming soon...
Book your place at our free online and in-person events run by the Tewkesbury team and industry experts. Our event schedule can be seen here.
Keep in touch
Follow Tewkesbury Growth Hub for insights, news and updates on Twitter, and Instagram and be part of our thriving SME community. Call our friendly team on 01684 272073 or email tewkesbury@thegrowthhub.biz. 
Gloucester
Festive Fayre - thank you!
We were able to welcome back our Festive Fayre to the Gloucester Hub and it was a huge success. Massive thanks to Sonia Smith, Gloucester Business Host and Chief Elf, who coordinated the day, and all the brilliant GlosBiz who joined us. The day also raised money for the Trussell Trust and we'd like to thank everyone for supporting the fundraising. 
January Events 
We're looking forward to welcoming in the new year with a bang with a jam-packed event calendar. If email marketing, launching a podcast, setting up Facebook adverts, getting a new premises, or growing your team are your new year wish list, then get ahead and book a January event now. See what we have coming up here. 
Last minute 1-2-1 support meetings available 
We know it can be hectic in the run up to the end of the year. You're managing more demand from your customers, finishing that report, juggling your team or just making sure everything happens so you can get some much needed time off. If you can find some time for a 1-2-1 meeting with our team of Business Navigators, you might just find your new year easier to manage. Find out what funding, resources and support you're entitled to during your Discovery Meeting to get on the front-foot for 2022. Apply for support here. Our Gloucester team are here until 4.30pm on Wednesday 22nd December. 
Forest of Dean
We are open for business!
The brand-new Forest of Dean Growth Hub, Located at Vantage Point Business Village, is now open! We break down barriers to growth. Whether it's sourcing funding, developing your team or breaking into new markets; our experts are on-hand to consult, connect and collaborate.
We offer bespoke business support through one-to-one sessions, sector specific events run by local experts, workshops, networking opportunities and much more. Our Business Navigators will listen to your priorities and challenges to offer solutions to help you develop your business. So what are you waiting for? Email us on forestofdean@thegrowthhub.biz and let's see how we can help. 
Festive Business Celebration 
We are showcasing small businesses across the Forest of Dean throughout December on our social platforms. Follow us on LinkedIn and Twitter to see all the incredible Forest of Dean based businesses who are set for great things in 2022. 
Forest Business Climate Charter
33.5% of the Forest of Dean district's CO2 emissions from energy come from industry and commercial sources. We know there's appetite from people within businesses and organisations to transition to carbon neutrality, but many find it difficult to know where to begin. Find out more about the Forest Business Climate Charter here.