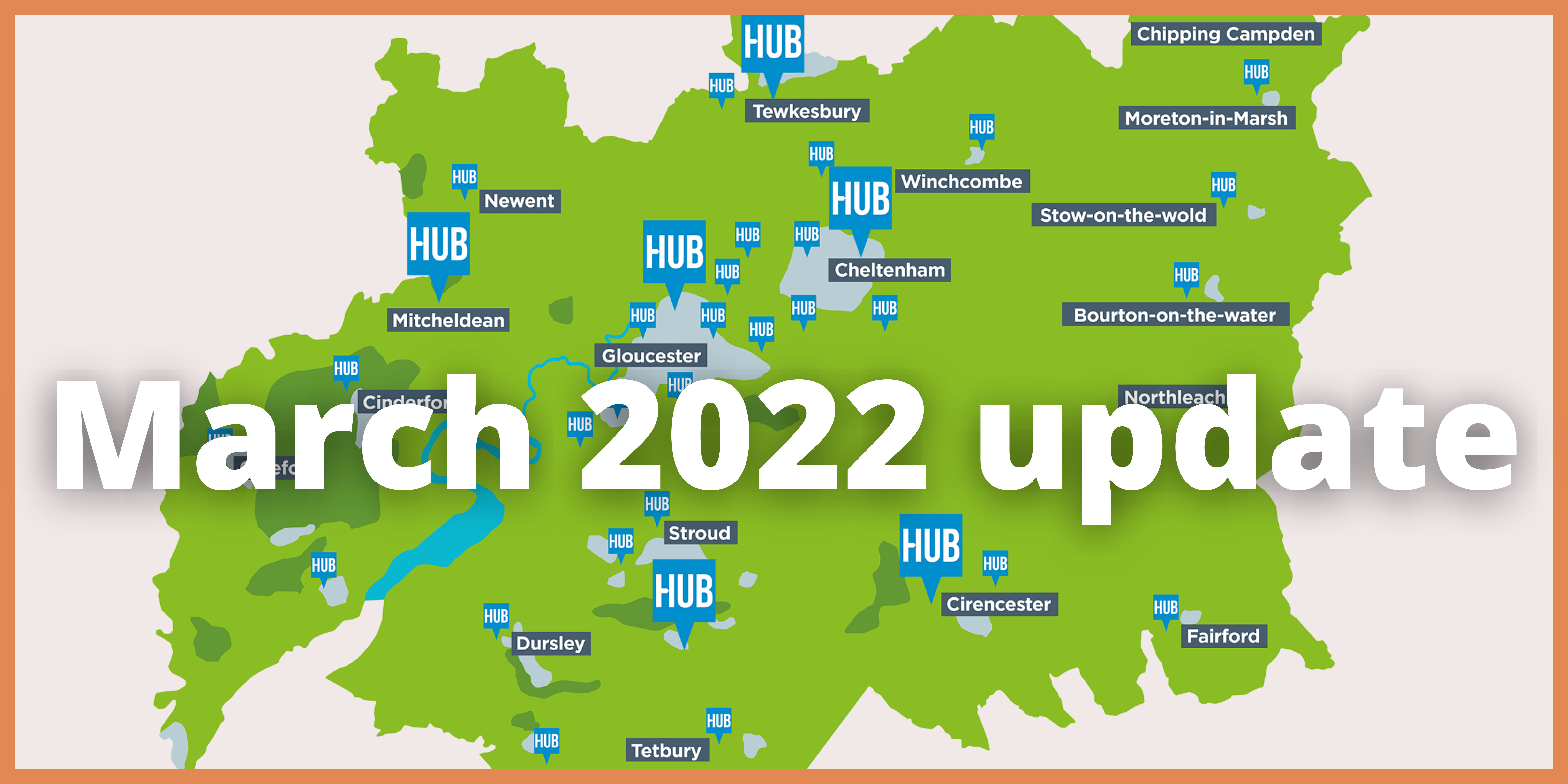 With our incredible network now standing at six locations, we bring you a monthly round-up of the breaking news from each Hub. It includes news of events, memberships, incubation offices to rent, new team members and the latest updates to help your business to grow, wherever you are. 
Cheltenham 
The Growth Hub Cheltenham now has an official Facebook page as well as an Instagram page! Make sure to follow us on these pages for extra sources of information about our Growth Hub!
We have our monthly Capture the Flag event coming up soon on the 17th of March. This is a chance to come learn some new cyber skills or refine the skills you already have! There's an area for beginners and more advanced users, so all are welcome.
To see all upcoming Cheltenham events, click here. 
Cirencester
Keep hearing about Sustainability and wondering what it means for your business and what opportunities are out there for you? Well, there's an easy solution for that. We are inviting an inspirational panel of Sustainability Experts in to demystify Net Zero and equip you with everything you need to know to get cracking. 
Find out more about our incredible panel, and register for your free place here. 
To see all upcoming Cirencester events, click here. 
Tewkesbury
We have a range of exciting events coming up. From business premises to patents, and LinkedIn to global export, we have you covered. All free, and all designed to help your business grow. To see all upcoming Tewkesbury events, click here. 
Stroud
On Wednesday 30th March, we are hosting a hospitality networking event, along with a talk from guest speaker Ruth Cornish on the vital topic of recruiting, training and retaining staff.
The event will start at 10.30am and is completely free of charge. Please email stroud@thegrowthhub.biz for more information or to book your space today!
Are you looking for a more permanent base for yourself and your business? Stroud Growth Hub has 2 single offices available for hire, both come with free parking, free wifi and free refreshments. Please email stroud@thegrowthhub.biz for more information or to arrange a visit.
To see all upcoming Stroud events, click here. 
Forest of Dean
If you want a modern, flexible and innovative place to work from, we'd love to see you at the Forest of Dean Hub. We have meeting rooms, offices, and hot desks, all with great rates to help your business take the next step. We'd love to give you a tour, find out about what you need, and build a solution that works just for you. Email us on forestofdean@thegrowthhub.biz and let's chat. 
Our event programme is up to full speed now and we've been loving seeing so many businesses benefit from the expertise of our Delivery Partners. We have some new topics coming up including how to reduce cost and improve service delivery, and how to take control of your business. To see all upcoming Forest of Dean events, click here. 
Gloucester 
Candour. Client. Conversation. Cash. Our Director's Strategy Programme is now in its third year and returns in March 2022 with a blast. We dive into four topics crucial for current or future directors to master. You'll learn from the best in the industry, as we drop expert speakers into each session to teach, train, and share their years of experience. 
Between each session, you'll network with fellow business leaders, build professional connections, and learn more about the other support services available via The Growth Hub. Places are free, but limited so sign up now to avoid missing out! Find out more here. 
To see all upcoming Gloucester events, click here.