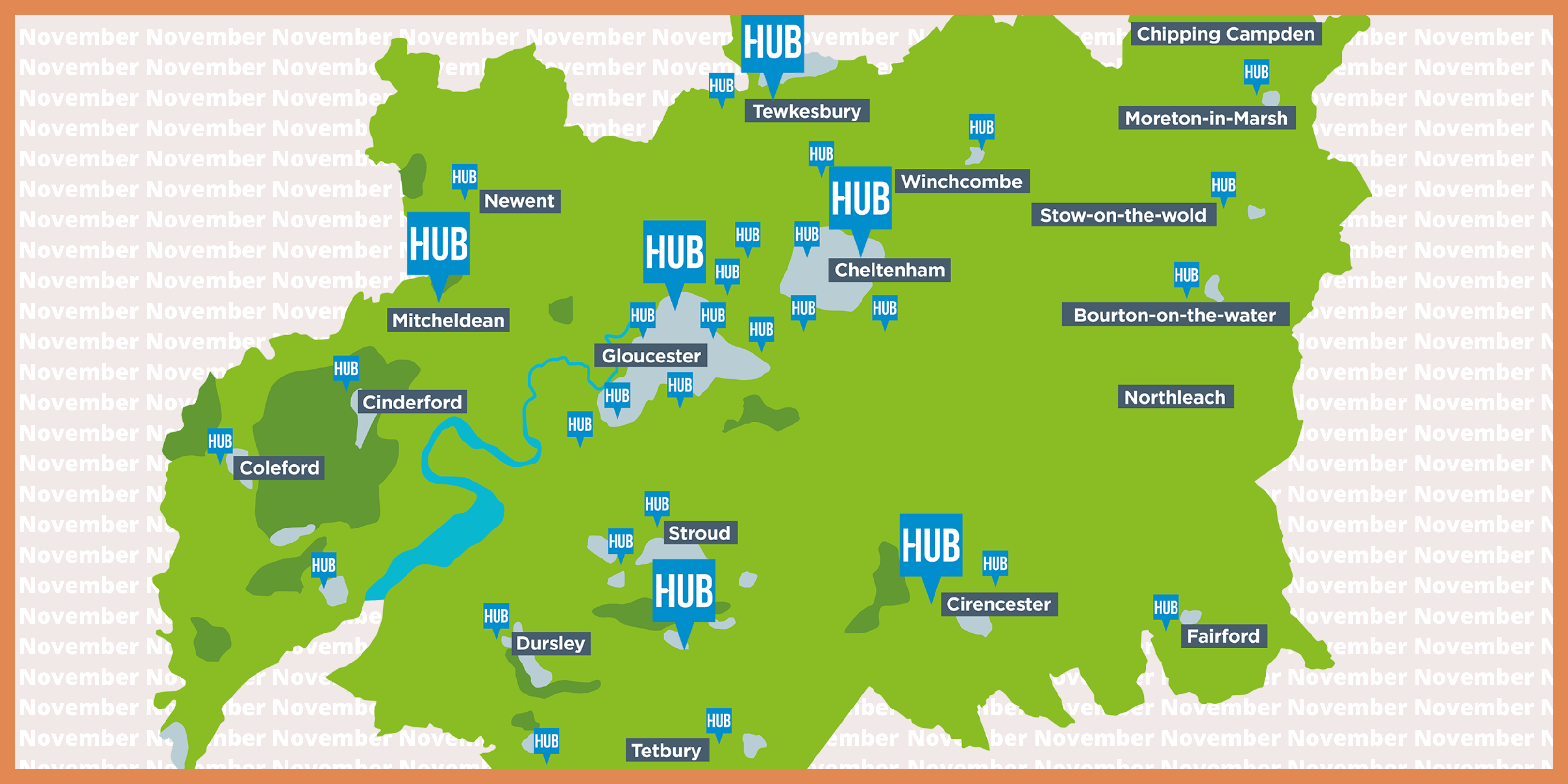 With our incredible network now standing at six locations, we wanted to bring your a monthly round-up of the breaking news from each Hub. It includes news of events, memberships, incubation offices to rent, new team members and the latest updates to help your business to grow, wherever you are. 
Stroud Growth Hub
We are officially open!
On Friday 22nd November, we were very happy to hold our official opening event at Stroud Growth Hub. Senior leaders from SGS College, where the Hub is based, GFirst LEP, Stroud District Council, and local MP Siobhan Baille were all in attendance, with Siobhan doing the official ribbon cutting. Also in attendance were local businesses The Boys Who Sew, and Painswick Rococo Garden, whom our Business Navigators have worked with and supported during these challenging times.
Join us at our first open day
We are welcoming any individuals and businesses we have not previously worked with to come and have a look around the superb facilities and find out more about our support services on Monday 15th November, 9.30am-3.30pm. Please email laura.gaiger@thegrowthhub.biz to book in.
Office Space Available
We have 2 x single occupancy offices, and a double occupancy office available to hire for start up or small businesses. Please email stroud@thegrowthhub.biz if you would like to take a look around.
Crypto Currency Expert? We Need You!
We are currently seeking an expert on crypto currency to run a workshop with some of the businesses we work with. If you are interested in this opportunity, please email stroud@thegrowthhub.biz
Tewkesbury Growth Hub
Office space available 
Are you looking for office space to grow your businesses? If so we have 3 private offices available in Tewkesbury Growth Hub. Not only do the offices provide a professional and innovative space to base your business, you will also benefit from advice via our team of experts to help take your enterprise to the next level. The offices also benefit from free parking and WIFI. Contact us for more details and to book a tour!
Free business advice and support
We are open for business and our friendly team of experts are on hand to help you grow your business at whatever stage you are at. This can range from 1-2-1 Navigator meetings, providing bespoke advice tailored to your needs or signposting to the expert or funding source you may be seeking.  Just drop in and have a chat and we can start the conversation.
Meeting room hire
We have a range of meeting rooms available to all your business needs. They are conveniently located and easy to access with free car parking. To check availability, rates and get a tour contact us or drop in.
Innovative events
We're running a full and exciting events programme with topics including social media, branding, photo and video for business, and planning your business premises needs. If you're not sure what event is right for you then we'd love to chat and find out what your challenges and opportunities are, and help you find the support you need. Just contact us on the details below.
Free co-working
Tewkesbury Growth Hub is open for co-working and we would love to see you back. If you are tired of working from home or need somewhere to focus, our co-working space is the ideal place to visit. Open to all, simply drop in or let our team know you are coming, so we can reserve a desk space for you. 01684 272073 or email tewkesbury@thegrowthhub.biz. 
Keep in touch
Follow Tewkesbury Growth Hub for more news and updates on Twitter, and Instagram and be part of our local business community. Call our friendly team on 01684 272073 or email tewkesbury@thegrowthhub.biz. 
Cirencester Growth Hub
Well, what another busy month it's been here at The Cirencester Growth Hub!
As 'alternative' methods to office-bound employees continues apace, memberships are reaching capacity and there are days when there's not a desk left to be had! Our offices continue to be full and meeting rooms have also proved to be a very popular way of 'bringing together' remote workers from disparate teams.
This has contributed to an ever-burgeoning exciting business community where we're meeting new people every day.
Throw into the mix our own Growth Hub hybrid model of online and in-house events and you quickly realise that no 2 days are the same. It's all about the connections and here at Cirencester, through co-workers, day members, 121's, workshops and their respective Delivery Partners, we're helping businesses grow and connecting more and more SME's, Sole Traders, Business Owners, MD's, CEO's and Entrepreneurs every week.
Upcoming events
ONLINE WORKSHOP: Brand Strategy - a road map to move your business forward 10/11/2021 bookable at https://www.thegrowthhub.biz/events/search/1182
ONLINE ONE-TO-ONE: How to master your business operations - profits, sales and people 17/11/21 bookable at https://www.thegrowthhub.biz/events/search/1163
IN-HOUSE ONE-TO-ONE: How to make your Marketing more effective 23/11/21 bookable at https://www.thegrowthhub.biz/events/search/1165
Get in touch
Memberships & Meeting Rooms (currently) available – subject to availability, at https://cirencester.thegrowthhub.biz/login
Office Waitlist, general enquiries and just want to say 'hi', please email: cirencester@thegrowthhub.biz
Gloucester Growth Hub
Co-working space fully open
Our modern co-working space is now fully open and no pre-booking is required. Whether you want to use one of our pods to focus and get that 2022 business plan written, or gather your team around one of our high tables for a brainstorming session, we're ready to welcome you back. 
Director Strategy - two weeks to go!
It's just two weeks until we kick off our final showcase event of 2021, Director Strategy. We'd like to invite you to come along and learn from the best in the business. For Free. The event, which takes place on November 23-24, will be looking specifically at the Four Cornerstones of Leadership, giving you practical tools and techniques to get your growth strategy on track for 2022 and beyond.
 
We'll be digging deep with expert speakers and collaborative working to uncover successful leadership strategies on key themes. Places are free, but limited. You can come in person and we'll even treat you to lunch, or you can join us online from the comfort of your office or kitchen table. Either way, we want your business to benefit from this event and we'd love to see you, or a member of your team, there. Get a place at the table here. 
Ingenuity Programme 2022
The University of Gloucestershire is excited to be hosting the Ingenuity Programme for a second year running. Ingenuity 2021 saw 3 Gloucestershire applicants win awards in the competition. This year, it could be you!
The Ingenuity Programme offers investment and specialist mentoring for creating a start-up that generates sustainable impact in one of the three areas: building stronger communities, improving health, tackling climate change. 
The first step is to attend the expert-led summits which are taking place on 6th, 7th & 8th December 2021. At the summits, there will be industry experts, think tanks, and charity leaders, as well as those with lived or professional experience of the biggest social and environmental challenges facing the UK today. Attending the summits will give you knowledge and insight to help give your application an edge. Sign up for the summits here: https://ingenuityimpact.org/ingenuity-summit/
The link you'll need to apply for the competition is: www.ingenuityimpact.org
Teams or individuals with the most viable ideas will be partnered with a mentor to develop their business plan and pitch, with the prize winners announced at the Impact Evening on 19 May 2022. The programme is open to everyone, no matter their background or experience.
Forest of Dean Growth Hub
Events
We all have brilliant ideas on how to innovate and change business. Sometimes they occur in the shower, on the beach, in bed and occasionally even in the office. But how do you take them forward? This interactive session shows how you can build on your ideas, make sure they are good and get them ready to launch. This workshop will help entrepreneurs, innovators and people who want to drive innovation and change in their business. Sign-up here. 
Forest of Dean District Council are offering free courses to businesses in the area to help keep their business COVID safe during the winter months. The Keeping Your Business COVID Safe during the Winter Months course will take place each Monday throughout October and November 2021, beginning on 18 October, and will include practical demonstrations on Disinfection Fogging, Air Purification and Distance Space Bands devices. Find out more here. 
Members 
Our memberships for co-working include superfast WiFi, parking, free printing, free tea and coffee, and a free half day meeting room booking. We offer memberships for fixed desk working, hot desking, and coworking for up to six members from the same business. Discounts are available for young entrepreneurs and non-profit organisations. We will be running an initial promotion so get in touch to find out more about prices and availability, email forestofdean@thegrowthhub.biz. 
Private offices
Our new private offices are now available for tenants to call their own. These spaces include furniture, cleaning and air conditioning. The rate also includes guest access, estate charge, service charge and insurance. Alongside all the perks of membership including free Wifi, printing, tea and coffee and business support just outside your office door. As with our memberships, we will be running an initial promotion so get in touch to find out more about prices, availability, and terms email forestofdean@thegrowthhub.biz
Cheltenham Growth Hub
Digital Support
We continue to help ambitious Gloucestershire businesses overcome their challenges and maximise their opportunities though 1-2-1 tailored support.
Our expert team can hold a Discovery Meeting with you to find out what additional resources, support, grants or organisations can help your business thrive. Get in touch with us to find out more cheltenham@thegrowthhub.biz.