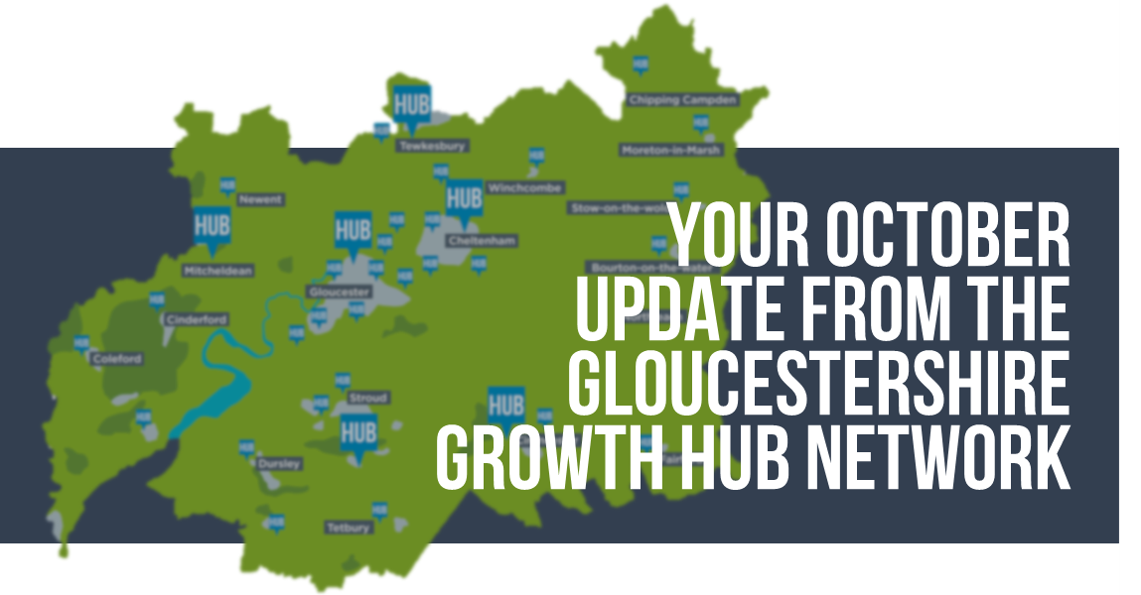 With our incredible network now standing at six locations, we wanted to bring your a monthly round-up of the breaking news from each Hub. It will include news of events, memberships, incubation offices to rent, new team members and the latest updates to help your business to grow. 
Cirencester Growth Hub
A workspace haven
Working from home comes with many benefits but it can also be a challenge – particularly during school holidays! This October half-term, why not come join our hub? Our thriving, welcoming community of business owners are enjoying our brilliant coffee, spacious workspace and beautiful location at Cirencester Growth Hub.
With most businesses and leaders now adopting a hybrid approach to working, our co-working space is the ideal base. With a variety of flexible memberships and co-working options to suit all requirements, we'd love to see you and your business benefit from our innovative, collaborative space.
All our private offices are currently full, but if you would like to add your name to our waiting list, please email cirencester@thegrowthhub.biz.
Book one of our meeting rooms
Available to all, our three large meeting rooms are available for hire. Our convenient location in Cirencester is the perfect space to meet clients, work colleagues or host training sessions, conferences and board meetings. Check our availability and rates on our website www.thegrowthhub.biz/cirencester.
Events at Cirencester Growth Hub
In October, we have the following free events happening at Cirencester Growth Hub: How to create a video content strategy to drive more website traffic with Rather Inventive (12th) and How to make marketing work for you with Kaye King (20th).
Stroud Growth Hub 
Official opening 
After an 18 month delay, we are very pleased to be officially the Stroud Growth Hub in October. Stroud MP, Siobhan Baille, will be in attendance, as well as representatives from GFirst LEP, local government, and SGS College.
Private office space available for rent
Stroud Growth Hub has 3 private offices available for hire. We have 2 single occupancy offices and one double occupancy, all come with free parking and wifi. As well as office space, we also have a large conference room with TV and live feed capability, allowing you to meet up in person or virtually. Please email Laura.Gaiger@thegrowthhub.biz for more information on hiring the facilities.
Co-working
Looking for somewhere to work from, or to hold small informal meetings? We have a modern, contemporary space perfect to base yourself, completely free of charge! There is currently no need to book, so feel free to pop along.
Professional courses
Being based at SGS College means we have direct access to help advise and support you with professional courses. From operational management to accountancy, there is a host of professional courses to help develop you and your staff in the workplace. Email Stroud@thegrowthhub.biz for more information.
Cheltenham Growth Hub
As part of Digital October, we are pleased to be running a Cyber Week. With our specialist sector understanding of all things cyber, we're looking forward to welcoming Gloucestershire Businesses to our showcase events. Running from Monday 25th October - Friday 29th October the exciting schedule of events can be seen below.
For any questions about Cyber Week, or the support available from the Cheltenham Growth Hub, email cheltenham@thegrowthhub.biz 
Gloucester Growth Hub 
Incubation space available for rent
Our incubation offices based in the Gloucester Hub are now ready to welcome some new businesses, looking for a unique working space and support on their doorstep! Find out more here. 
Co-working
Our co-working space is now open and we're so happy to see businesses back. We're currently running a booking system but have lots of availability so just give us a call on 01242 715400 or email talktous@thegrowthhub.biz. 
Events & support
Our events schedule is in full-flow with a mix of in-person and online workshops and 1-2-1s running throughout the rest of the year. From running Facebook ads to employing a team, and improving sales to building web traffic. View everything hosted by the Gloucester Hub here. 
If you're planning your 2022 growth goals, need a signpost to sector specific support, or want to get some 1-2-2 time with our expert teams, then complete our online application form for support here. 
Tewkesbury Growth Hub
Innovative events 
We're running a full and exciting events programme with topics including social media, applying for a patent, branding, photo and video for business, and planning your business premises needs. If you're not sure what event is right for you then we'd love to chat and find out what your challenges and opportunities are, and help you find the support you need. Just drop us an email on tewkesbury@thegrowthhub.biz or call 01684 272073. 
Business support
Business has changed in the last two years. Your clients, colleagues and suppliers are likely to all be operating differently. Whether you're managing hybrid working, supply chain management, export opportunities or adapting to ecommerce, we know you're working harder than ever before. Our expert Tewkesbury team is ready and waiting to help support you. We can offer you signposting to further resources, additional free support from The Growth Hub, or referrals to our partners at Tewkesbury Borough Council. There is an online form to complete here or if you'd rather have a chat first you can drop us an email on tewkesbury@thegrowthhub.biz or call 01684 272073. 
Forest of Dean Growth Hub 
We're Open! 
Following our successful opening event, we're now officially up and running and ready to help your Forest of Dean business to grow. Why not drop by to see our incredible new space or send us an email to forestofdean@thegrowthhub.biz to find out how we can help you. 
Members 
Our memberships for co-working include superfast WiFi, parking, free printing, free tea and coffee, and a free half day meeting room booking. We offer memberships for fixed desk working, hot desking, and coworking for up to six members from the same business. Discounts are available for young entrepreneurs and non-profit organisations. We will be running an initial promotion so get in touch to find out more about prices and availability, email forestofdean@thegrowthhub.biz. 
Private offices
Our new private offices are now available for tenants to call their own. These spaces include furniture, cleaning and air conditioning. The rate also includes guest access, estate charge, service charge and insurance. Alongside all the perks of membership including free Wifi, printing, tea and coffee and business support just outside your office door. As with our memberships, we will be running an initial promotion so get in touch to find out more about prices, availability, and terms email forestofdean@thegrowthhub.biz.